Social media users across the country are glued to a modelling contract from 1992. The decades-old contract belongs to Aishwarya Rai Bachchan, one of Bollywood's biggest stars and often touted to be one of the most beautiful women in the world. The modelling contract in question surfaced on the Reddit page "Bolly Blinds N Gossip" and is dated two years before her coveted Miss World win in 1994.
The contract dates back to May 23, 1992, and shows that the actress received ₹ 1,500 for a magazine shoot. As per the contract, Aishwarya who was aged "about 18" years at that time, agreed to work as a model for a magazine catalogue shoot for a company called Krupa Kreations. The single-page contract features Aishwarya Rai's signature and was inked in Mumbai.
The contract was shared by a user along with the caption, "Aishwarya Rai got paid ₹ 1,500 for one day's work in 1992. I wasn't even born then!"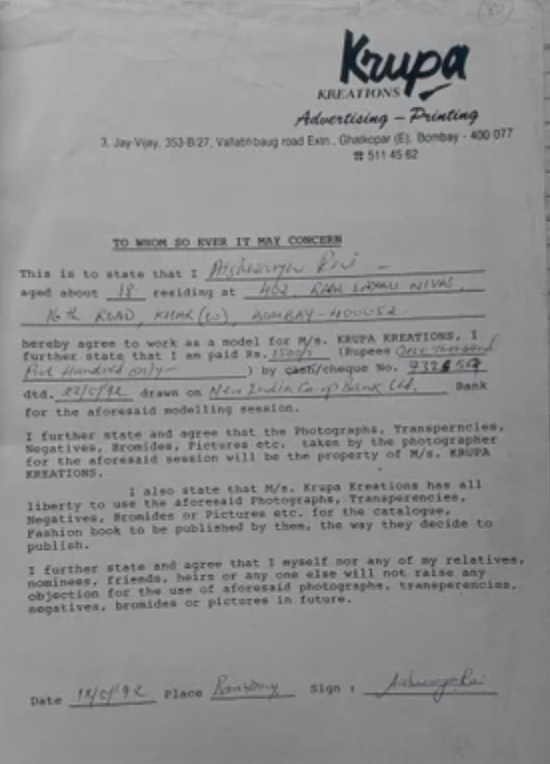 Soon after the contract went viral, images from a vintage photoshoot by photographer Vimal Upadhyay featuring Aishwarya Rai Bachchan was shared by him on social media. The photographer has claimed that the images are from three decades ago. The lovely photos feature Aishwarya Rai alongside other actresses and models such as Sonali Bendre, Niki Aneja and Tejaswini Kolhapure.
Along with the series of pictures that were clicked for a magazine catalogue dedicated to salwar kameez looks, Upadhayay wrote on Tuesday, "Hello, yesterday I celebrated the 30th anniversary of the fashion catalogue published by me. Aishwarya Rai, Sonali Bendre, Niki Aneja, Tejaswini Kolhapure were few of the models posed for this catalogue."
The buzz around Aishwarya Rai's contract and images from 30 years ago come at a time when the Devdas star has created waves with her fashion choices on the red carpet of the Cannes Film Festival, last week.
As she attended the prestigious film festival – her 20th year at Cannes – as the brand ambassador of the cosmetic giant, L'Oréal, Aishwarya Rai was the cynosure of all eyes.