Senior Congress leader Ghulam Nabi Azad on Friday resigned from all positions including primary membership of the party.
In a letter addressed to Congress president Sonia Gandhi, Azad alleged after Rahul Gandhi was appointed vice-president of the party in 2013 all senior and experienced leaders were sidelined and "inexperienced sycophants" started running the affairs of the party.
"Since 2019 elections the situation in the party has only worsened. Rahul Gandhi stepped down in a 'huff' and not before insulting all the senior party functionaries who have given their lives to the party," Azad said in a five-page letter.
"While you are just a nominal figurehead all the important decisions were being taken by Rahul Gandhi or rather worse his security guards and personal assistants," he claimed.
Ghulam Nabi Azad said, "Congress has conceded the national-level political space available to the BJP and state level space to regional parties. This happened because the leadership in the past 8 years has tried to foist a non-serious individual at the helm of the party."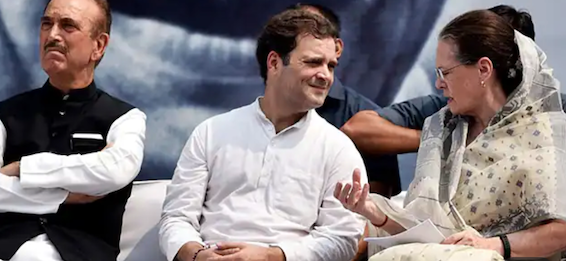 Azad is the head of the dissident G-23 and was ignored by the party for nomination to the Upper House.
Azad's resignation comes months after another key member of G-23 Kapil Sibal snapped his ties with the party and crossed over to the Samajwadi Party camp, adding to the mounting list of crossovers in recent weeks and amplifying the perception of negativity about the grand old party.
The Congress, he said, has lost both the will and the ability under the tutelage of the coterie that runs the AICC to fight for what is right for India, Azad, part of the G-23 group seeking change in party, said.
Before starting a 'Bharat jodo yatra', the leadership should have undertaken a 'Congress jodo yatra', the veteran leader said in his letter.
Azad further said that the situation in the Congress party has reached such a point of no return that 'proxies' are being propped up to take over the leadership of party.
Azad had recently resigned from the post of chairman of the campaign committee and from the political affairs committee of Jammu and Kashmir Congress hours after his appointment.
Azad held the leadership squarely responsible for "perpetrating giant fraud on party".
"The only crime committed by the 23 senior leaders who wrote that letter out of concern for the party is that they pointed out both the reasons for the weaknesses in the Party and the remedies thereof," he said.
"Instead of taking those views on board in a constructive and cooperative manner we were abused, humiliated, insulted and vilified in an specially summoned meeting of the extended CWC meeting," Azad added.