A wanted criminal reached Mansoorpur Police station in Uttar Pradesh's Muzaffarnagar district to surrender before the police, because he was scared of getting killed in an encounter.
The accused carried a placard in his hand when he reached the PS, which read in Hindi, "Yogi ji, forgive me, I made a mistake."
Muzaffarnagar police tweeted about the same.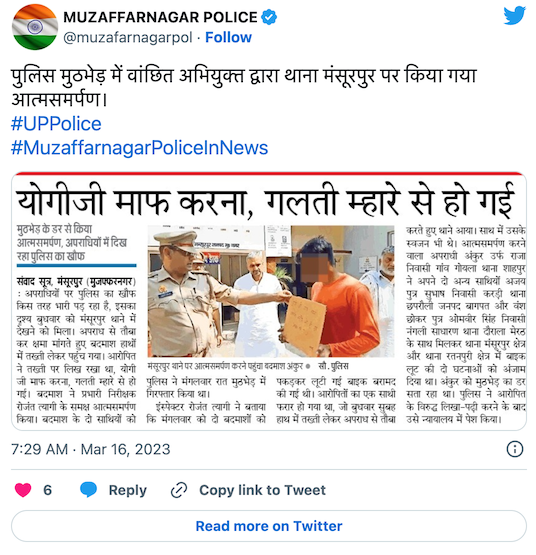 The accused, who was identified as Ankur aka Raja, was a member of a gang of motorcycle thieves. He was a wanted criminal.
Speaking to the media, Mansoorpur SHO said that the accused reached the police station with the village head and members of his family, fearing an encounter. "He also sought forgiveness and pledged that he would never commit any crime again. He has been taken into custody and sent to jail. He is wanted in several cases, including attempted murder (IPC section 307) and loot (IPC section 390)," the SHO added.
Significantly, the criminal surrendered a day after a police encounter with his gang. According to Deputy Superintendent of Police (Khatauli) Ravi Shankar Mishra, two members of the notorious gang were arrested on Tuesday while one managed to escape.
"We have recovered three bikes and illegal weapons from the accused," he added.
Notably, after Yogi Adityanath took over as CM of UP, the state has seen a severe crackdown on criminals by the police. Law and Order was one of the main focuses of Yogi Adityanath's poll campaign and his government has taken it seriously. UP has seen several encounters in recent months where many dreaded criminals were eliminated and hundreds have been arrested. Despite repeated notices from the National Human Rights Commission, Yogi Adityanath's government has maintained its stance on encounters.
The above case, in fact, is not the first of its kind in UP. The surrendering of miscreants and tainted criminals has become the new normal in Uttar Pradesh. OpIndia reported last year how at least 50 criminals had surrendered within 15 days after the Yogi Adityanath-led BJP government returned to power in Uttar Pradesh on 10th March 2022.
Interestingly, many of these criminals walked into the police stations holding placards with a message written on them – 'I am surrendering, please don't initiate an encounter.' 
(This piece is courtesy OpIndia)