Any extra hour that Mamata Banerjee spends in power in Bengal would be a blot on India's judiciary and Centre if the National Human Rights Commission (NHRC) final report is paid heed to by the guardians of Indian democracy.
The NHRC's report to Calcutta High Court on post-poll violence in Bengal—where "Law of Ruler" prevails and not the one of "Rule of Law"—states that if the "worrisome trend is not arrested, where the entire might of the governmental machinery has been used…the disease might spread to other states also. This may well be the death knell for democracy in this great nation. It's high time that the rot is stemmed…the nation of 1.35 billion people watches us with bated breath."
The NHRC reports that the post-poll violence "was a concerted attack on…our democracy." There was complete breakdown of Rule of Law which would have "adverse impact on future polls in as much as people will be scared to vote or support any party other than the ruling party."
The NHRC teams, after visiting 311 spots in Bengal in 20 days and were flooded with nearly 2000 complaints (see image below). They was horrified at the violence, rapes, killings and extortion of helpless people by the nexus of what it termed as "politico-bureaucratic-criminal nexus…this is a deadly combination that has sinister implications any State and will ultimately corrode the entire edifice…(it) also has larger national security implications."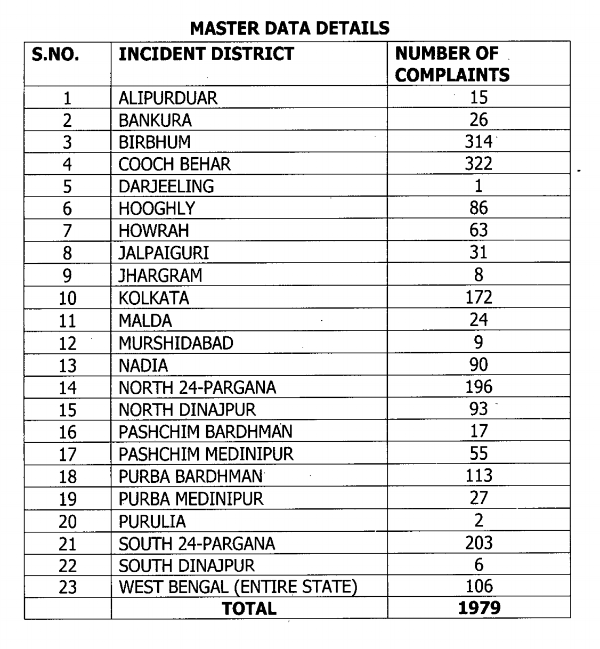 NHRC has made most brutal observations on the conduct of Trinamool Congress government and the police which it said was hand in gloves with criminals in this terrible still unfolding tragedy in the State and some portions of the report read thus:
TMC government: "…It evoked no empathy in State Administration…neither senior officers nor political leaders condemned the violence, visited the spots…people were left on their own…the local police has been grossly derelict, if not complicit in this violence."
State Police: The NHRC report claims that first, FIRs were not registered; and if registered, milder sections were slapped; and yet 97% accused are out in the open and less than 3% are in jail (see image below), "making a mockery of the whole system."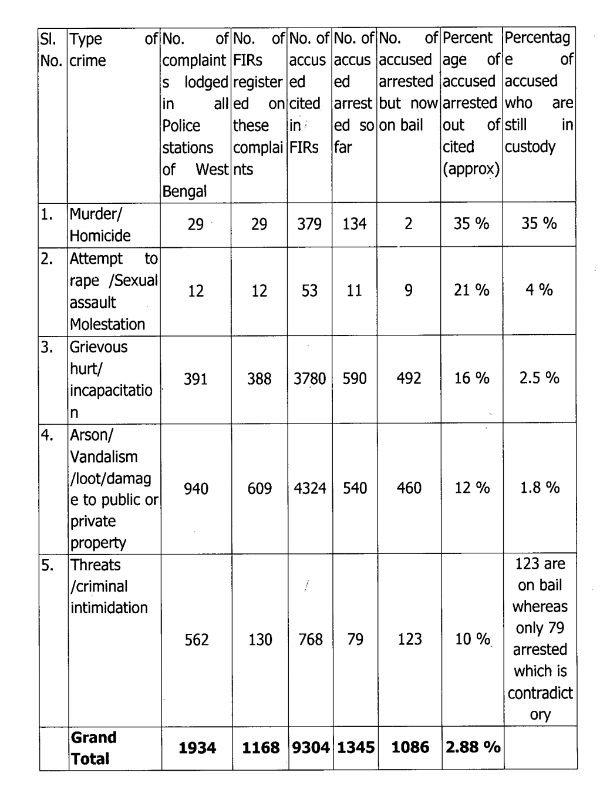 "It is quite evident that police is working under influence and in a biased manner and do not have the courage to take action against looming goons belonging to the ruling dispensation," states the NHRC report.
Criminals: As for goons, "a large number of criminals, who enjoy State patronage and support, were responsible for abetting, planning, organizing and even committing offences in a systematic and widespread manner."
And all this was "retributive", says report, in "retaliation to those who dared to vote or support the major opposition party."
"If this is considered as a sample of the state of affairs in West Bengal, the extent of burking and minimisation of crime across the State can well be imagined.
"There is no rule of law in the state and violations of constitutional ideals like democracy, republic, social justice, equity and liberty etc," states report.
Citing a particular incident, the NHRC report mentions the state of a village Kenbona where the women reported that Trinamool Congress goons broke into their house at midnight of May 23, 2021. "The women were physically harassed and were taken into custody in semi-nude condition. Even one handicapped girl was physically assaulted."
The NHRC report names a few police officers, as well as criminals, in its annexures who have abetted and caused this ongoing tragedy.
As for victims, the report claims they are being asked to cough up large sums of money as a precondition to their return. Their identity cards have been snatched and destroyed which "prevented them from availing legitimate benefits from the government." Even on vaccination for Covid-19, they were discriminated against.
RECOMMENDATIONS
The NHRC has recommended that the probe be handed over to CBI and that these cases should be tried outside the state. The other cases should be investigated by a court-monitored SIT and for adjudication, there should be fast track courts.
"The committee humbly requests that an early decision on its recommendations may be taken by the Hon'ble High Court because delay would result in continuation of misery of victims, many of whom may compromise with the situation."