(The Delimitation Commission is holding a meeting for its five associate members in New Delhi today. Three of them are National Conference MPs — Dr Farooq Abdullah, Mohammed Akbar Lone and Justice (retd) Hasnain Masoodi while two are BJP MPs, Dr Jitendra Singh and Jugal Kishore Sharma. By March 2022, it would most likely be public what we already know that seats, both assembly and Lok Sabha, are heavily skewed in favour of Kashmir Valley compared to Jammu region). 
Politicians of different hues, mainly from the Kashmir region, are trying hard to raise temperatures in Jammu and Kashmir even as they are going down steeply in the Union Territory (UT). In Srinagar and many other areas of Kashmir valley, as also in far-flung areas of the Jammu region, the worst of winter has already started. Cold and heartless, the vagaries of weather are likely to continue like this till mid-March and that means for about 100 days, counting the harsh winter of past one week or so. Around the time weather is expected to open up, Delimitation Commission headed by Justice (retired) Ranjana Prakash is almost scheduled to submit its report.
Many Kashmir-based politicians have been insinuating that it is "BJP's commission'', meaning thereby that it will do delimitation in a manner as to help the party. Be that as it may, the hard fact is that the process of delimitation follows certain laid down rules and is based on variables laid down in the Representation of People's Act (RPA), 1951. It is another matter that delimitation has never happened in J&K based on this Central law. The delimitation of legislative assembly constituencies was done last in 1995 on the basis of Representation of People's Act, 1957, a law enacted by the state legislature.
The delimitation of the Lok Sabha segments, in J&K, which should have been carried out by the Delimitation Commission appointed by the Centre, has never happened. These segments of Srinagar, Anantnag, Baramullah and Jammu were arbitrarily drawn by the political leaders of Kashmir. They are thus grossly imbalanced and the segments in the Jammu region are way too large as compared to those in the Kashmir Valley. The inequities are glaring, to say the least.
The Srinagar Lok Sabha segment covers barely nine (09) per cent of the geographical spread of the UT. Udhampur Lok Sabha segment, from where MoS in PMO, Dr Jitendra Singh hails, comprises 45 per cent of the total geographical area. Defined in terms of square kilometres, Srinagar is spread over only 3,599 sq km whileas the Udhampur Lok Sabha segment is spread over 18,892 sq km, that is over five times. We are giving a chart which shows the geographical spread of all the five Lok Sabha segments of the UT of J&K.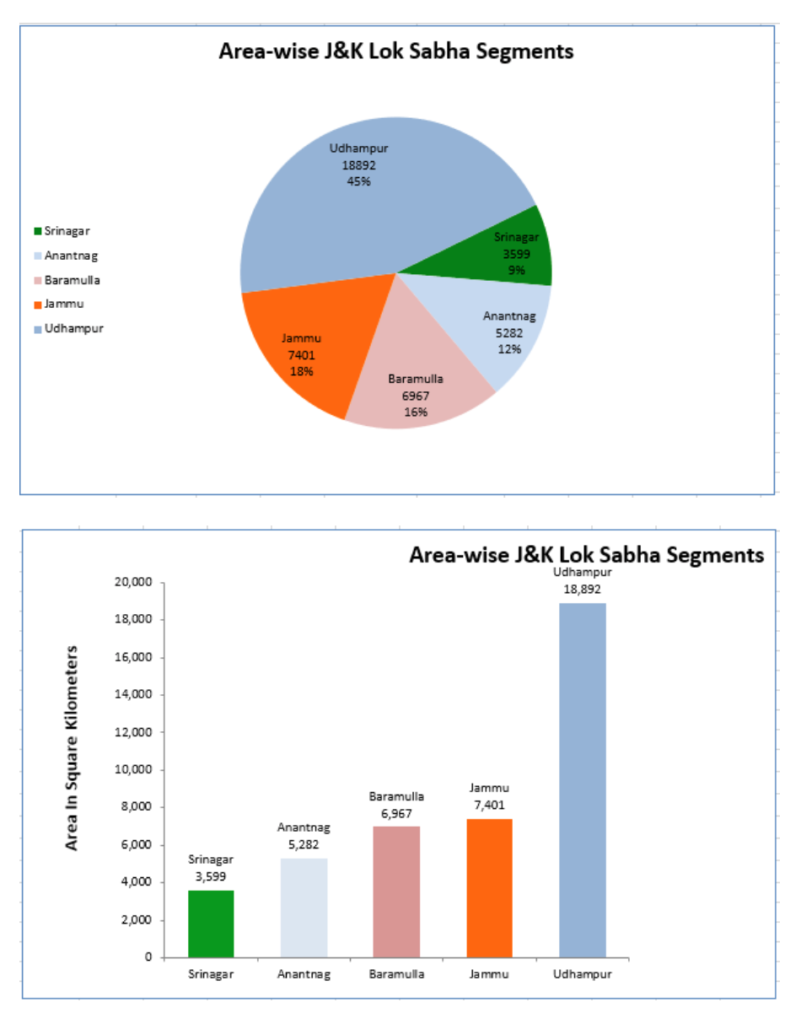 The interesting thing about RPA, 1957, is that while it seems similar to the Central RPA, 1951, it deliberately ignored it. The RPA, 1951, was neither followed in letter, nor in spirit, by successive state governments and RPA, 1957, was applied in a highly biased and arbitrary manner. This was the reason why the assembly constituencies in Jammu are worth at least two seats in one given its geographical spread. This led to political disempowerment of the Jammu region, as also Ladakh, and created hegemony of the Kashmir politics.
Desai Delimitation Commission has to address this alleged discrimination against the Jammu region while giving its award. It is likely that the balance of power will change and not follow the old pattern whereby the Kashmir region had 46 assembly seats and Jammu only 37. This had led to grossly imbalanced representation with people of Kashmir over-represented and those of the Jammu region getting under-represented. Within Kashmir too, some areas on the periphery like Kupwara, Lolab and some other segments were grossly under-represented with areas like Khanyar, Habba Kadal and Eidgah etc getting over-represented.
Incidentally, Khanyar and Habba Kadal in Srinagar city had 51,000 and 54,000 voters in 2014 but far-flung and remote Kupwara and Lolab both had over a lakh voters. In Jammu too, anomalies existed as Jammu East assembly segment was only of 53,000 voters, but Gandhi Nagar segment in the city had over 1,68,000 voters. Geographically, Kishtwar assembly segment is the largest in terms of geographical spread, and can be divided into more than one segment if RPA,1951, norms were followed strictly. Similarly, far-off areas of Kashmir as also Jammu can expect to gain in a fresh delimitation at the cost of better developed areas.
In the earlier legislative assembly of J&K, the Jammu region had 37 segments and Kashmir 46, as already stated above. This ratio is expected to change clearly in favour of the Jammu region, with some assembly segments in Kashmir set to vanish. What will be the number of segments in each region in the new 90-member assembly? That question is tantalising as many in Jammu expect that it may be reversed! That is a reason of trepidation in Kashmir, with politicians there fanning discourse of discrimination.
On Saturday, former chief minister Mehbooba Mufi said in Rajouri that she had no faith in the credentials of the Delimitation Commission. She alleged that it has been constituted to "pit minority and majority communities against each other'' (whatever that may mean). It is worth mentioning here that Muslims constitute about 68 per cent of the UT's population, but enjoy the status of minorities on paper! The Hindus, on the other hand, around 30 per cent, less than half in numbers as compared to Muslims, but designated majority. She also alleged that the commission will increase the number of seats in such a way that it helps the BJP and hence it was "BJP's commission''.
A couple of days ago, another former chief minister, Omar Abdullah had said that his party, the National Conference, will accept the delimitation process only if it is done on the basis of 2011 census. If the exercise is aimed at appeasing any political party, the move will not be acceptable, he added. He too was insinuating that the commission can act in a partisan manner and favour the BJP. Speaking about abrogated Article 370, he said that the Centre was afraid of hearing in the Supreme Court regarding its restoration. He said: Our case is strong and if a hearing takes place in the Supreme Court, we will surely win. "Article 370 was not just a special status but it was our identity, something that guaranteed the protection of land and property," he asserted in Bandipora.
We are giving a table here along with this story in which head to head comparison of assembly segments of the Kashmir region has been done in a descending order. The table is based on data regarding 2014 assembly elections taken from Election Commission of India (ECI) website. It clearly demonstrates that the assembly segments in Jammu were much bigger than their counterparts in Kashmir. Had they been drawn without a bias, the Jammu region will get more assembly segments.