In a horrendous revelation, several human bodies were found on Thursday in Nishtar Medical University in Multan city of Pakistan. So far, many newspapers and TV channels have chosen to bury their heads in sand and not carried any details regarding the incident. As such, there is no clarity as to how these bodies were lying unclaimed and unidentified on the roof of a room or for how long. A couple of reports claimed that the number of these bodies was over 500. So did a Twitter user named Meena Gabeena who tweets at @gabeeno.
The issue came to the fore when Adviser to Chief Minister Punjab Tariq Zaman Gujjar said a whistleblower tipped him about the rotting bodies on the roof of the mortuary at Nishtar Hospital. When Gujjar went to cheque the morgue (mortuary), he found dozens of bodies lying there at different stages of decomposition. Most bodies were lying uncovered, among them bodies of unidentified women too.
There were five freezers in the mortuary with a capacity to keep 40 bodies, according to unidentified hospital staff. However, out of these five, four freezers were non-functional due to some technical faults and have not been repaired for a long time. This had contributed to the chaotic conditions prevailing in three rooms which serve as areas where dead bodies are to be stored.
Reports quoted eyewitnesses as saying that vital body parts were missing from most bodies which were putrefied. However, the Punjab government has not released any official report about what could have happened at the medical university.
Chief minister of Pakistan Punjab Choudhry Pervaiz Elahi has said that a six-member committee has been formed to investigate the incident. It all started after very disturbing videos and many photographs of rotten bodies were shared on various social media platforms by several users. Simultaneously, Nishtar Medical University Vice Chancellor is on record having said that a three-member committee was conducting an inquiry.
Elahi had become the CM with the help of Imran Khan in July this year, barely a couple of months ago. He hails from a family of leading industrialists and politicians of Pakistan. Within Pakistan, the Choudhrys are a clan of politicians perhaps as widely known as Bhuttos and Sharifs.
Specialised healthcare and medical education secretary of Punjab has been asked by Elahi to submit an official report into the incident. The act of throwing unclaimed, unidentified and mutilated bodies on hospital roof has been described as "inhuman'' by Elahi. He has said that strict disciplinary action needs to be taken against those responsible for this indignity.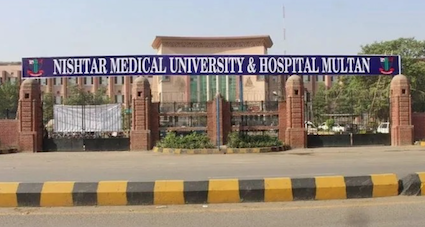 Moonis Elahi, son of the CM, a former federal minister, took to Twitter to try to do initial damage control. He shared initial response of a senior Faculty member, head of Anatomy Department of Nishtar University, Professor Mariam Ashraf. "The HOD reasoned that these are the unidentified bodies handed over by the police to them for post-mortem and "if required" to be used for teaching purposes for MBBS students,'' a report in The News International newspaper said.
The HoD said that "these bodies were in such bad condition that they could not be used for teaching purposes as well and so after the process of complete putrefaction, the bones are retrieved for medical students''.
Incidentally, the HoD claimed that there was "no issue of disrespect" regarding the bodies and that after retrieval of bones, the bodies are "always" buried properly, suggesting it is a routine practice at the hospital. She did not say what was left behind to be "buried properly'' after complete putrefaction and bone retrieval.

According to sources, dozens of bodies are rotting in the room built on the roof of Nishtar Hospital. On the other hand, according to the news circulating on social media, hundreds of human body parts have been found on the roof, according to the newspaper report.
The bodies are piled up at the morgue of the hospital and its rooftop mainly because of police and the rescue departments, Nishtar Medical University's (NMU) Head of Anatomy Department Mariam Ashraf said, while speaking to TV channel the Geo News in a programme late on Friday evening.
She said police and rescue officials (usually) hand over the bodies to the hospital for safekeeping. And, the hospital cannot decline as it is bound by duty to take them, she said. "The police and rescue officials do not take them back on time. We have written documents in which we have asked them to take the bodies. Since there is a lag, such things happen," she said.
Mariam also said that NGO Edhi Foundation has been refusing to take over unclaimed bodies for honourable burial as it was doing in the past saying it had no space left for the burials. She said her university was taking a lot of load (of unclaimed dead bodies) in south Punjab and media reports were exaggerated. In her discussion, she said there were only seven bodies and not dozens or hundreds. However, the Anchor of the show refuted her and asked her to give the exact number of bodies according to records maintained at her department. She did not respond to that question claiming she was not at liberty to divulge the number of bodies or share details with the channel.
Later, Faisal Edhi, head of the NGO, also spoke on the channel and refuted her version, saying they had buried 155 unclaimed bodies so far, of which 35 had been sent by Nishtar Hospital. He also pointed that their NGO has not refused a single request for taking charge of any unclaimed bodies for proper burial. He said that his organisation has buried over 2,50,000 unclaimed bodies in the last 35 years all over Pakistan.
A Punjab police spokesman, a DIG rank officer, also refuted Mariam Ashraf's version that the police was not taking back unclaimed bodies for handing over to various NGOs for burial. He said the police will review the procedure of handing over unclaimed bodies to teaching hospitals like Nishtar medical university. These teaching hospitals themselves come forward to take the bodies from the police saying these bodies can be used for teaching the students.
Once the bodies have been used for the teaching purposes, the hospital has to ensure their proper disposal by way of an honourable burial. Apparently, it didn't happen.
(Sant began as a teacher but after six years, joined the Indian Express, Chandigarh in 1990, the year when terrorism was taking its first step in J & K and soon there would be exodus of lakhs of Kashmiri Pandits from the Valley. He subsequently worked for The Statesman, The Times of India and Star News among others. He is based in Jammu since May 2000. He edits epaper.earthnews.in, a newspaper from Jammu presently.)