There is almost desperation in Aam Aadmi Party (AAP) to own up Bhagat Singh.
The new Punjab chief minister Bhagwant Singh Mann has declared today, March 23, would henceforth be known as Martyrs' Day. He would also have the bust of India's most loved revolutionary in the precincts of Punjab legislative assembly.
Mann, not even a week into his office, wants people to use the day to visit Bhagat Singh's memorial in Hussainiwala or his ancestral village Khatkar Kalan and pay homage to his memory.
Mann's political father, Arvind Kejriwal, is similarly expansive in neighbouring Delhi. He announced that the Sainik School he has in mind in Delhi would henceforth be known as Shaheed Bhagat Singh Armed Forces Preparatory School. He chose to address the legend as "Shaheed-e-Azam Bhagat Singh."
Such reverence to heroes of history is rarely genuine. Politicians sense a harvest in it. In Bhagat Singh's case, it also helps the AAP to deflect the suspicion that they could be close to Khalistanis. After all, Bhagat Singh gave up his life for India's independence. His memory could never be in sync with those who want to break-up India. In a convoluted way though it forges pride amongst Sikhs which could be a very useful tool for secessionists in future! After all we have the word of once Kejriwal's closest Kumar Vishwas that AAP supremo wasn't quite fussy if he became the chief minister of Punjab or prime minister of Khalistan. 
(There is also an uproar from Congress' quarters that Mahatma Gandhi's image has been removed from Bhagwant Mann's chief minister's office (see image below) which now adorns the portraits of Bhagat Singh and BR Ambedkar—the Sikh-Dalit Sikh constituency which worked so wonderfully for AAP in the recent assembly polls. Was it because Mahatma Gandhi never quite sought clemency on Bhagat Singh's death sentence? One could only guess.)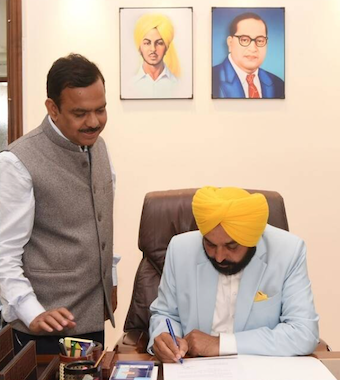 Be that as it may, there was a little chuckle which spread itself on face when it was learnt that Arvind Kejriwal and his protege Bhagwant Singh Mann can't agree on the Bhagat Singh's date of birth. Former State transport minister Amarinder Singh Raja Warring in state assembly yesterday flushed out an old tweet of Kejriwal who apparently celebrated the martyr's birth anniversary on September 27. In Mann's view it's a day later on September 28 which it is. But as I said, when has reverence to heroes of history come easily to our politicians?.