A stretch of road barely 150 metres in Ramban district on Jammu-Srinagar national highway is giving sleepless nights to administration and apple growers of Kashmir because of shooting stones. The disruption of traffic for hours together on Srinagar-Jammu has meant that thousands of fruit-laden trucks (more than 5,000 by some estimates) are stuck at Qazigund and some other places for days. Ordinary passenger traffic, particularly in smaller vehicles, is allowed to ply while the trucks are being stopped.
The matter has serious implications as detention on the road angers drivers, fruit growers and those handling it in Jammu as also Azadpur (Delhi) mandis. The reasons are not difficult to guess as at a conservative estimate, the apple industry brings more than Rs 7,500 crores to Kashmir. Some leading horticulturists say that around 7.5 lakh families, or 30-32 lakh people, are involved in the trade.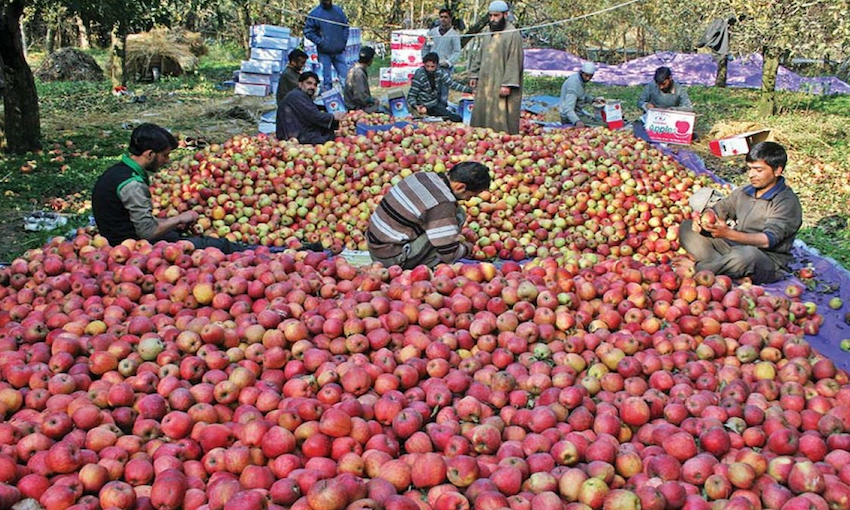 With navratras starting on Monday, the demand for fruit has gone up just as it always has in the earlier seasons too. This is largely due to the fact that many devotees observe fasting for some days, if not all nine days, and take only fruits (no grains). Usually, by the first navratra, tons of apple is stored by major traders in Jammu as also Delhi. Good quality apple was usually available around Rs 70-80 per kg in Udhampur, Jammu, Samba and Kathua till last year, Sham Lal, a resident of Jammu says. However, the prices are much higher and the same quality of apple is selling for Rs 100-120 per kg in most local markets.
The higher prices are neither helping horticulturists of Kashmir, nor the customers, he adds, pointing out that lesser arrival of apple in the markets is the culprit. If the traffic flow on national highway between Srinagar and Jammu remains smooth and uninterrupted, this time of the year is the best for buying apples, he stresses.
The matter has escalated so much that LG Manoj Sinha as also Chief Secretary A K Mehta have issued instructions to clear the bottlenecks. To carry out urgent maintenance works on the highway, all traffic is being halted every day between 3 am to 7 am (sometimes at 2 am) for 4-5 hours. In Ramban district, road widening on a total of 66 km is going on and sometimes poses major problems.
A week ago, on September 19, during his visit to south Kashmir districts of Pulwama and Shopian, LG Sinha had said that fruit-laden trucks should be given priority. However, one-way traffic from Srinagar to Jammu doesn't help as empty trucks, besides trucks carrying goods, need to reach Srinagar from Jammu as well to complete the cycle smoothly.
Incidentally, the Mughal Road between Shopian and Poonch remains open these days most of the time. However, it is not used by truckers carrying fruit from mandis of Kashmir to Jammu and Delhi. The reason is that most stretches from Poonch to Rajouri, onwards to Nowshera have been dug up for widening. Besides, it is not considered suitable for carrying heavy loads as gradient is steep on many stretches.
Senior Congress leader Tariq Hameed Karra accuses government of "insensitivity and administrative failure''. The clearance of road for smooth traffic flow 24×7 is the least support horticulturists expect from the government, Nissar Ahmad, a trader from Shopian, one of the largest apple mandis, says. The new 11-km Qazigund-Banihal tunnel saves trucks several hours of steep climb they had to undertake earlier to reach Jawahar Tunnel, he admits. However, there have been instances of trucks remained stranded for up to a week, he points out.
In protest against the traffic and non-availability of more trucks, horticulturists and major traders decided to keep mandis closed on Sunday as also Monday. This may ironically help clear the stranded trucks as more of them did not get loaded for journeys to Jammu and beyond on these days.
It is worth pointing out that two decades ago, Jammu-Srinagar national highway did not have Qazigud-Banihal and Nashri-Chenani tunnels. As such, all vehicles were forced to used Jawahar tunnel as also do the difficult climb from Batote to Patanitop and then climb down to Kud. Negotiating these stretches took many hours, and was always a challenging task for the loaded trucks. At that time, the Jawahar Tunnel used to remain closed overnight and was usually opened at 8 am. Now, despite the highway remaining open 24 hours a day, the traffic has increased so much that it is often a headache to travel.