Days after a major crackdown on the extremist group Popular Front of India (PFI< a Bharatiya Janata Party (BJP) MLA from Maharashtra Vijay Deshmukh allegedly received a 'sar tan se juda' threat from one of the PFI members. This comes just days after the Centre banned the extremist Islamic group for its anti-India activities and alleged links with terrorist groups such as ISIS and Jamat-ul-Mujahideen Bangladesh (JMB).
According to the FIR, BJP MLA Vijaykumar Deshmukh has written a police complaint against an alleged PFI leader Mohd Shafi Birajdar, claiming that the latter threatened to decapitate him due to his angst over the government's ban on the PFI.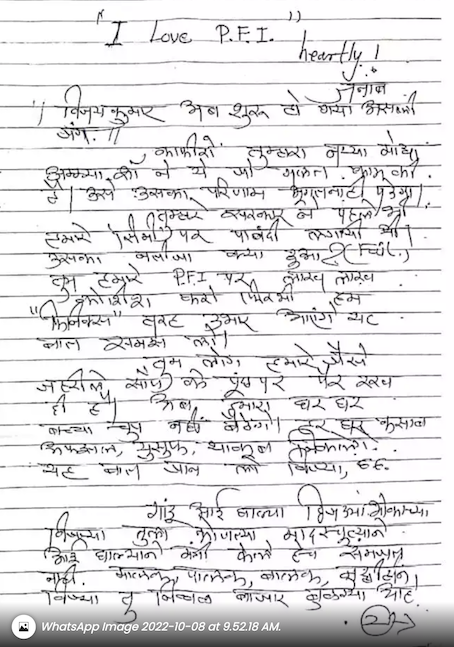 The complaint further added that the PFI member has allegedly threatened to target prominent Hindu temples like Ayodhya Ram Mandir and Krishna Janmabhoomi mandir by suicide bombers. The accused also said that eminent politicians like Prime Minister Narendra Modi and several other leaders are on their radar.
Solapur police are investigating the veracity of the letter and the probe is on
Popular Front of India ban
The Government of India, under its comprehensive 'Operation Octopus' with various probe agencies, conducted large-scale raids on several locations across India and found alleged links between terrorist organisations and the extremist group PFI.
Following the investigation, the Union Home Ministry on September 22 banned PFI and eight of its other subsidiaries and partner groups in India for the next five years.
The notification released by the Centre reiterated that the banned outfit PFI had alleged links with international terrorist organisations ISIS and SIMI.
On the other hand, the ED investigations exposed the involvement of the Rehab India Foundation in mobilising funds to fuel anti-CAA (Citizenship Amendment Act) protests in the country and other financial irregularities.
Apart from PFI, other affiliated outfits of PFI have also been banned under UAPA. The organisations which were also declared banned include Rehab India Foundation (RIF), Campus Front of India (CF), All India Imams Council (AIIC), National Confederation of Human Rights Organisation (NCHRO), National Women's Front, Junior Front, Empower India Foundation and Rehab Foundation, Kerala.