Pakistan Prime Minister Imran Khan has said that Jammu and Kashmir "dispute'' can be solved only through a dialogue. The statement was made on Thursday at the Institute of Strategic Studies Islamabad. It seems like an admission on his part that Pakistan has failed to wrest away J&K from India by force despite 1947-48, 1965 and 1999 Kargil wars. To that extent, a dialogue that leads to territories of J&K illegally in possession of Pakistan being vacated is welcome.
He also said that any meaningful engagement with the current government in Delhi headed by BJP's Narendra Modi "was not possible because of its religious nationalism''. That is an absurd statement, to say the least, as India is a secular democracy unlike Pakistan which is an Islamic Republic, meant to have dominance of Islam in every facet of society.
The recent capitulation of the Pakistani State before the Tehrik Taliban Pakistan (TTP) and radical Tehrik Labaik Pakistan (TLP) are bare pointers to the extremism that is the hallmark of Pakistan society today. The manner in which a Sri Lankan manager was lynched in the name of blasphemy also shows how Pakistan is no longer safe, except for those who agree with one particular interpretation of Islam.
Leading Pakistan newspaper Dawn quoted Imran Khan as saying that South Asia has been held back by political differences and conflicts and listed the Kashmir dispute as the "biggest problem" holding the region back. Again, for that, Pakistan itself is to blame as it has done nothing to stop terrorism emanating from its soil against India. South Asia earlier had an effective forum like South Asia Association for Regional Cooperation (SAARC) which is now defunct as Pakistan had reduced it to a forum meant for scoring browny points against India.
Instead of allowing it to function like a multi-lateral forum, Pakistan had reduced it as an international forum for heaping abuse on India. This had led to an unfortunate scenario where India almost stopped participating in any SAARC deliberations. Today, SAARC, for all practical purposes, is a dead horse, which Pakistan keeps on flogging every now and then.
Imran needs to look within and realise that it is Financial Action Task Force which has put it on the greylist for past over three years. Time and again, FATF has asked Pakistan to improve its record pertaining to terror financing, money laundering and such other pernicious activities. Its patronage of groups like Lashkar e Taiyyeba (LeT) and Jaish e Mohammad (JeM) is responsible for the FATF action and not some partisan report.
Incidentally, LeT was responsible for orchestrating the 26/11/2008 Mumbai terrorist attack and till date, those responsible for it have not been put behind bars. JeM led by Maulana Masood Azhar is responsible for the current state of India-Pakistan relations as it was responsible for February 2019 Pulwama killings. Imran knows well that no dialogue with India is possible as long as it continues to treat men like LeT's Hafiz Saeed, JeM's Masood and Hizbul Majahideen's Syed Salahuddin as its proxy terror assets.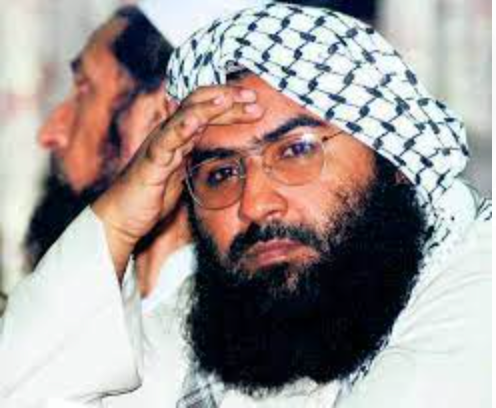 It is worth pointing out here that Masood Azhar was released from an Indian jail in lieu of hundreds of airline passengers who had been taken to Kandhar after their flight was hijacked. He preaches violence openly and China helped in Masood dodging being designated a global terrorist for a decade at Pakistan's behest. From Kandhar, he was taken to Pakistan and has been living there ever since. Yet, Imran has done nothing to hand over Masood to India and expects to improve ties at his terms!
It was amusing to watch Imran delivering sermons on peace and say that progress in relations between Pakistan and India had been halted because his government had to deal with RSS's extremist ideology currently dominating Delhi. "Meaningful negotiations with India are impossible as long as the government there is inspired by this ideology," he said, hoping that one day India could have a rational government with which resolution of disputes could be sought through logical and sane discussions.
In a speech on the floor of the United Nations General Assembly, Imran had admitted that Pakistan had at least 40,000 terrorists on its soil. It is undoubtedly world leader in housing the maximum number of terrorists as also globally designated terrorists.
Imran implies that the BJP policies are influenced or shaped up by people from RSS like its Sarsanghchalak Mohan Bhagwat. Can he tell what orders are issued to him by ISI, or TTP, TLP and such others? Religious extremism is sweeping through Pakistani society nowadays and he is bending over backwards to accommodate more extremist, more radical views progressively.
The party in power, the BJP, was chosen by the people of India in 2014 as also in 2019. Imran speaking loosely about the BJP amounts to interfering with the internal politics of India which is totally uncalled for. India has no such intentions to influence the internal politics of Pakistan. It does not have any preference for PPP led by Bilawal Bhutto, or PML-N led by Nawaz Sharif and his daughter, or Imran's PTI.
On the brink of economic ruin, Pakistan wants better ties with India. In turn, India has no reason to pursue hostility towards Pakistan if it stops using terror proxies to keep us off-balance. For long, India has pursued a fairly transparent policy when it declared that terror and talks can't go together. Of course, there are talks between the two sides behind the curtains but they can start openly only after Pakistan abjures all terror against India. That is a tall task for Imran.
Sant Kumar Sharma, a seasoned journalist, is an authority on Jammu and Kashmir. Two of his books on Article 370 and Delimitation are already out. The third one on Indus Waters Treaty is now out and could be bought here.
Sant began as a teacher but after six years, joined the Indian Express, Chandigarh in 1990, the year when terrorism was taking its first step in J & K and soon there would be exodus of lakhs of Kashmiri Pandits from the Valley. He subsequently worked for The Statesman, The Times of India and Star News among others. He is based in Jammu since May 2000.
He edits epaper.earthnews.in, a newspaper from Jammu presently.