If India was anything like Iceland, it wouldn't have been just the most peaceful country but also virtually debt-free. With the money that the violence has cost us — $646 billion — the country could have funded all its budget expenditures and various welfare programmes with ease.
But, India holds a dismal 72nd rank in the Global Peace Index (GPI). The economic cost of violence is as much as 6% of its GDP. Farmers protest, Lakhimpur case were some of the popular violent acts that took place in 2021.
India's neighbours – Pakistan and China stood at 54th and 138th, respectively.
In the last few years, India has been a victim of year-long protests against government policies, curfews, internet shutdowns apart from various big terror events like Mumbai attacks and bombings in almost every major city, naxal activities across multiple states and more.
In addition to loss of life and injury, these events also cost the country both directly and indirectly.
"The economic impact of violence includes the direct and indirect costs of violence as well as an economic multiplier applied to the direct costs. The economic cost of violence includes only the direct and indirect costs. Per capita and percentage of GDP results are calculated using the economic cost of violence," the report said.
Syria, South Sudan and the Central African Republic were the worst affected countries with the highest economic impact. Iceland, Kosovo and Switzerland were the least affected ones with only 2% as their economic cost as percentage of GDP.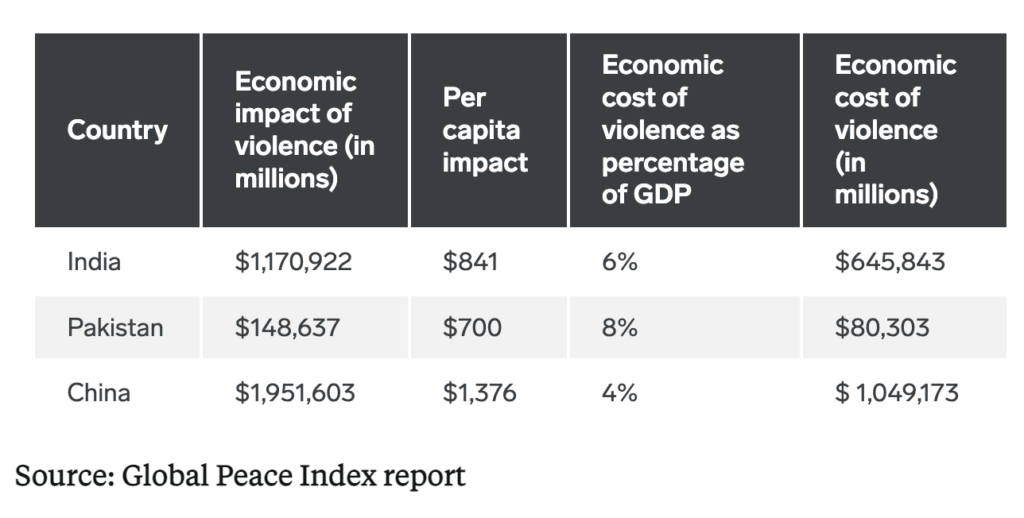 The average economic impact of the ten most affected countries by violence was equivalent to 34% of world GDP.
"The economic value of lost peace reached record levels in 2021. There is a need to reverse this trend, and the GPI has shown that those countries that implement the attitudes, institutions and structures that create and sustain peaceful societies, witness an improved economic outcome," said Steve Killelea, founder and executive Chairman of IEP.
The number of countries experiencing violent internal conflict rose from 29 to 38, but the number of people killed in internal conflicts has fallen since 2017.
South Asia remained the second least peaceful region but recorded the largest increase in peacefulness, largely driven by improvements in ongoing conflicts.
(This is a reprint from Business Insider)
(Panchmukha is interesting content floating on internet, brought by NewsBred for its readers. They don't necessarily reflect our views but make our platform diverse.)