(Delhi chief minister Aam Aadmi Party's Arvind Kejriwal has denied that he ever courted secessionists of Punjab. But he hasn't thrown light who planted the fake letter of terrorist organization Sikh For Justice (SFJ) in his support. Read on, as of now).
First came the letter of Khalistani outfit Sikh For Justice (SFJ) in support of Aam Aadmi Party (AAP) in Punjab polls due on Sunday. 
Then came a video of Gurpatwant Singh Pannu, chairman of SFJ, terming the letter fake and a handiwork of Arvind Kejriwal's AAP. (Both, letter and video, are at the end of this piece).
Kejriwal, all this while, has kept mum.
The voice of reason would tell us that both SFJ and AAP are looking to woo the radical, secessionist forces within Punjab.
AAP, possibly, had reckoned that the "fake letter" would suit SFJ's agenda since it has opposed Congress and SAD in the past; and its equation, or lack of it, with BJP is not even a matter of speculation.
But SFJ took it as a raid on its own turf and Pannu's tone and wagging of finger in the video is notable for its vehemence.
This has come close on the heels of his one-time associate poet Kumar Vishwas, asserting what he had said before as well: Kejriwal didn't mind the support of separatists as long as he could be CM of Punjab or PM of an independent Khalistan.
This was no different to what once AAP's candidate from Chandigarh Gul Panag had once lamented: That Kejriwal was flirting with Khalistanis.
Those who have followed the rising graph of Kejriwal's AAP closely remember that SFJ had similarly resisted the former's move to poach its constituency in Canada.
It's a grave worry that a man who aims to control the border state hasn't said a word in defence or retaliation on the veracity of the SFJ letter.
Kejriwal had slept on the "fake letter" in circulation yesterday and while Pannu's rebuke has gone viral today, he has kept his own counsel thus far.
Perhaps he thinks the matter would die on its own as media, fattened on the ad-purse of AAP, is averse to ask him probing questions.
Even though he's been in public in rallies, no scribe has asked him about his alleged association with the separatists.
These pen-hacks have similarly ignored thousands of anganawadi women workers who have laid siege near Kejriwal's home in Delhi for over two weeks now, for better working conditions and fees.
Most wouldn't even know that the protest is on—contrast it with how they pick up a woman and a dog as long as she is in support of Hijab or squatting in opposition to CAA.
The charge of Kejriwal's AAP being funded by the notorious Central Intelligence Agency (CIA) has been in public domain for years but none has seen it worthy of investigation.
A Pegasus though they won't let go, like a bone lodged within teeth of a dog.
AAP perhaps feel that an average Punjab voter, kept in dark, disillusioned with Congress-SAD and brainwashed on BJP, would power Kejriwal in pole position in this critical state.
That freebies would blind him to the economic burden by other means.
But if secessionist forces are not an anathema to this man, Punjab and India has a lot to worry about.
PS: The fake letter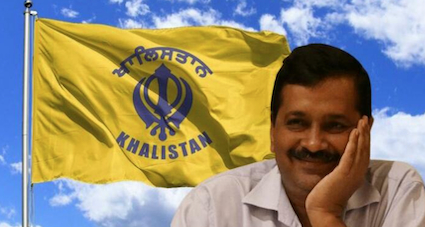 Pannu's video.