Two States, both in Opposition, are livid that their tableau have been "rejected" by the Modi government in this year's Republic Day parade which falls on January 26.
The chief ministers of both these States, Mamata Banerjee of Bengal and MK Stalin, have written letters to the Prime Minister Narendra Modi, terming such exclusion as "shocking" and "unacceptable." Kerala, another State excluded, is similarly upset.
In her two-page letter, Mamata Banerjee said the proposed tableau was to commemorate the contributions of Netaji Subhas Chandra Bose and his INA on his 125th anniversary.
Now States are accepted and kept out in every year's Republic Day parade for all of 56 such proposals can't be included. For example, Gujarat was kept out of Republic Day for five successive years between 2009-2014. So was Gujarat being discriminated against by the UPA government?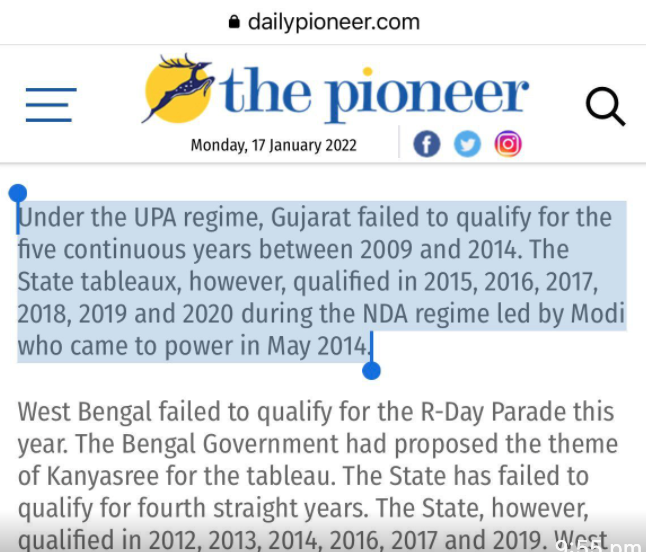 Now, it's not the Modi government which decides on tableaux. There is an expert committee which goes through tableaux proposals received from various States and central ministries. This committee consists of eminent people in the field of art, culture, sculpture, music, architecture, choreography etc. The proposals are examined on the basis of theme, concept, designs and visual impact before being recommended. This has led to proposals of some State being excluded.
Sources said a non-issue is being whipped up to link it to the regional pride and projected as an insult to the people of the State by the Centre. And this is not a one-off incident: It plays out almost every year. It's a wrong precedent and meant to cause a flashpoint between the Centre and the States. Perhaps such CMs, added the source, has no positive agenda but to resort to the same old trick of using misinformation year after year.
If it was so, it would've happened every year.
But Kerala was accepted through the same process and system under the same Modi government in 2018 and 2021.
Tamil Nadu, similarly, was accepted in the similar vein, under the same Modi government, in 2016, 2017, 2019, 2020 and 2021.
And Bengal? Well it was similarly accepted under the Modi government in 2016, 2017, 2019 and 2021 and Mamata Banerjee was at the helm in the State on all these years.
Besides, this year's tableau of CPWD includes Neetaji Subhas Chandra Bose, so the question of legendary hero's insult does not even arise, said the source.