Will Rishi Sunak finally return the World War II dues from the Allies to India?
Any money spent in India, even for Americans positioned in India (Singapore to Aden) was recovered from India account.
Any money spent by India, e.g for troops sent abroad, was waived off from India account.
Basically, India pre-1947 got an empty katori both ways…
—Veeresh Malik
Now this from my friend, these days irregular with his pen on our pages, conveys the kind of bar Indians would like the new Indian-origin UK prime minister Rishi Sunak to scale during his tenure.
Now you and I would admit that's a too stiff an ask even if we somehow were ruling the British, hurtling as it is towards an economic recession.
Their treasury is empty, far-off colonies have long run free, and worse all those immigrants they needed to rebuild England after World War II now have grown roots over three generations alongside the Thames, and are doing quite well.
Rishi himself was no different, born to a doctor and a pharmacist of Indian origin with roots in East Africa.
All along his climb to the pinnacle of British political spectrum, Rishi kept making headlines in India.
For one, he struck up with Akshata (Murthy) in California for years before returning home and convincing her father, the one Indian who launched a million dreams with his Infosys, Narayana Murthy and his wife Sudha Murthy, to give their daughter's hand in marriage. Over years, the young couple have been blessed with two daughters, Krishna and Anoushka.
Rishi also became likeable to Indians in multiple ways during his incredible journey. A devout Hindu, a regular visitor to temples, Rishi often had his two daughters accompany him to offer prayers.  Anoushka also performed Kuchipudi with her classmates for the Queen's Platinum Jubilee celebrations at Westminister Abbey in June. He also famously lit the diwali divas as first Indian-origin Chancellor of the Exchequer at 11, Downing Street last year while his daughters painted rangoli, lit sparklers and mingled with kids on the street outside.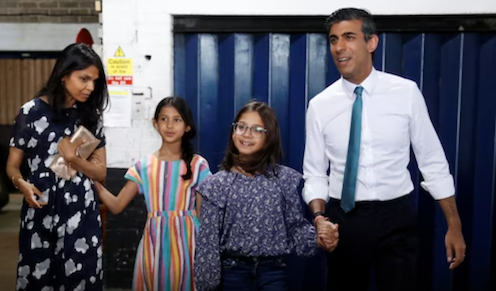 When the Conservative Friends of India (CFIN) hosted him in London, he greeted the assembled with "namaste, salaam, them cho and kidda" and even showed his felicity with Hindi: "Aap sab mere parivar ho (You are all my family.)
With so much India on his mind, how do you think Rishi would set about building the ties with the land of his origin? An India that often indulges in verbal spat on FTA and visa issues, not to say is almost contemptuous on Anglo-Saxon demands for a certain specified conduct against Russia.
Rishi himself has offered a hint in the past: easy access for UK students and companies in India which is wonderful to hear for the citizens of once a land of snake-charmers. He also made a few comments which I reproduce here verbatim:
"We know the UK-India relationship is important. We represent the living bridge between our two countries (meant for UK citizens of Indian origin.)
"We are all very aware of the opportunity for the UK to sell things and do things in India, but actually we need to look at that relationship differently because there is an enormous amount that we here in the UK can learn from India."
Now this surely is music to earns and reparations could wait I guess.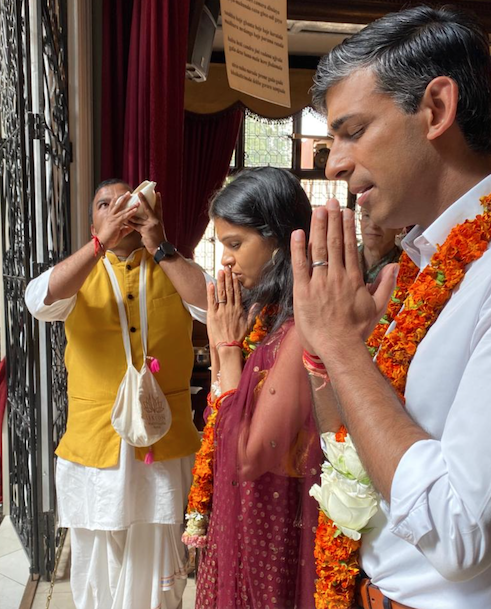 Further, "I want to make sure that it's easy for our students to also travel to India and learn; that it's also easy for our companies and Indian companies to work together because it's not just a one-way relationship, it's a two-way relationship and that's the type of change I want to bring to that relationship," he had said.
This is all so wonderful to hear, the worth of which would be weighed this winter when the Ukraine Crisis would get serious and India and UK would look at issues from conflicting positions. The Indian Rishi, sadly, would've to slink in the background, for the Anglo-Saxon alliance fundamental to West's origin and hegemony, would prevail.
But all this could wait. Meanwhile, the cricket-fan that Rishi is, he would do well to cheer India against England, if at all the two were to meet in the World Cup T20 finals in a fortnight's time as the bookies market suggests.