Lakhimpur Kheri tragedy increasingly appears a conspiracy.
We now know that a cousin of a former Congress MP (Akhilesh Das) had slipped into the cavalcade with his Fortuner; and in the FIR lodged by the kin of a killed BJP leader (Shubham Mishra), among the persons named is an alleged SP leader.
There are various images of Bhindranwale T-shirts worn by a protesting farmers and various eye-witness accounts have claimed that quite a few in the assemblage of farmers, didn't appear to belong to the region and were outsiders.
(In these columns, we had earlier mentioned a Times of India report which said that the dreaded Babbar Khalsa International had gained ground in Lakhimpur Kheri in recent times, along with in neighbouring district of Pilibhit).
Further, a shocked Shubham Mishra's father has said the murder appeared to be the work of professional killers, so badly was the head of his son crushed. "So much so that he (Shubham) could only be identified with his clothes," said a distraught father.
There is a general consensus that the violence appeared planned in order to inflame the public opinion and swing sentiments in the UP assembly polls which is only a few months away.
That's why posters have appeared (see below) in the state capital of Lucknow where Congress' show of sympathy for the farmers has been decried upon, reminding the old party about its role in the 1984 genocide of Sikhs in the Capital.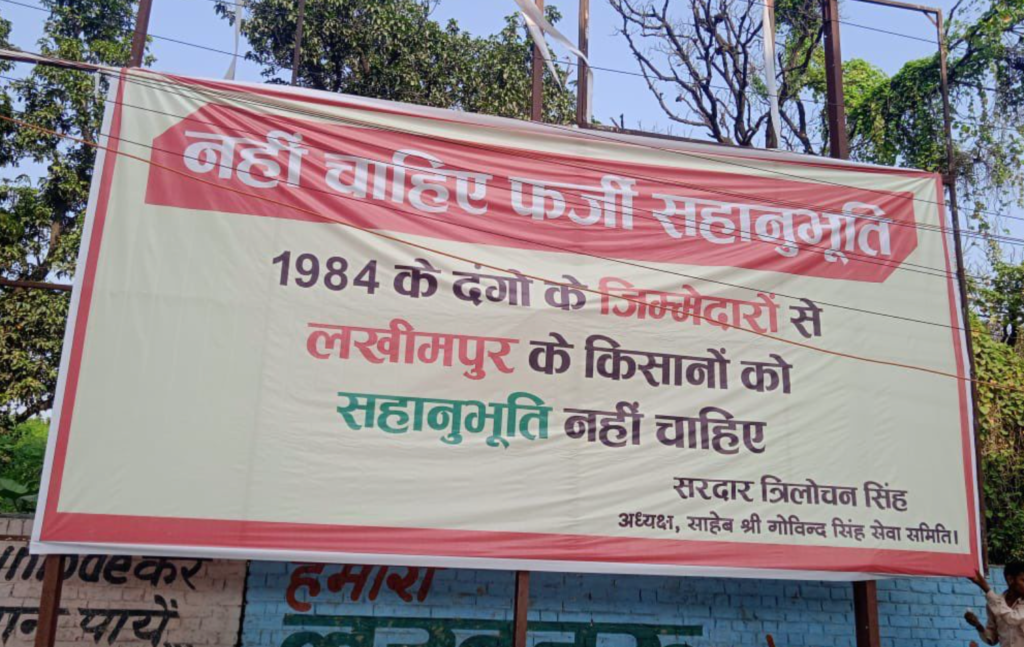 Meanwhile, a tussle is growing with the Opposition leaders trying to break into the region presently cordoned off by the Yogi Administration to ensure emotions are not stoked and mischief is not caused.
There is Bhupesh Baghel, chief minister of Chhattisgarh, who sat on a dharna at the Lucknow airport for hours to protest on his non-passage to Lakhimpur Kheri; we already know that Samajwadi Party leader Akhilesh Yadav had staged a sit-in following which he has been placed under house arrest; and that Navjot Singh Sidhu has threatened to march to Kheri with Congress workers if Priyanka Gandhi was not un-detained overnight.
Congress leader Rahul Gandhi is reaching the state Capital today with five representatives from his party and they plan to proceed to Kheri. Sharad Pawar of NCP has gone to the extent of comparing Kheri with Jallianwala Bagh. All of them are terming the ban on them to visit the venue as unconstitutional.
Interestingly, recent past is replete with incidents when Opposition-ruled states have imposed a blanket ban on BJP leaders and denied them free movement.
Ahead of the Bengal polls, the ruling Trinamool Congress denied permission to Yogi Adityanath and Smriti Irani to hold public rallies in the state. BJP leaders had claimed that even home minister Amit Shah wasn't allowed to land his chopper in the state.
Vishva Hindu Parishad (VHP) international working president Pravin Togadia's entry into Udupi in Karnataka's coastal district was denied for a week in 2015 to maintain peace and law and order in the area, police said.
In 2018, BJP leader Arun Jaitley was detained at the Jammu airport before he could make his way to communal violence-hit Kishtwar, a district which was made out of bounds for political leaders by the J and K government.
In 2018, Rajnath Singh, who was then the BJP's president, was denied permission to visit riot-hit Muzaffarnagar district.
Yet, so intent are Opposition to make a windfall of Lakhimpur Kheri opportunity that Chhattisgarh's CM Bhupesh Baghel was staying put in Lucknow when one of his own districts, Kawardha, was inflamed with communal violence on Tuesday evening.
For good measure, Malviya also fired another tweet in which he highlighted Baghel government itself admitted in the state assembly that 141 farmers had committed suicide in the state of Chhattisgarh in a 10-month period till February, 2021. "Did you see Bhupesh Baghel announce any compensation," queried Malviya.