Hindi film stars Ajay Devgn, Suniel Shetty, Akshay Kumar and Sidharth Malhotra have expressed gratitude to Prime Minister Narendra Modi for naming 21 islands of Andaman and Nicobar after Param Vir Chakra awardees.
On the occasion of Netaji Subhas Chandra Bose's 126th birth anniversary, the PM on Monday virtually unveiled the model of a proposed memorial dedicated to Netaji, to be set up in the Union Territory and also named 21 islands after Param Vir Chakra awardees.
The award is India's highest military decoration, which is awarded for displaying distinguished acts of valour during wartime.
Suneil Shetty thanked PM Modi for honouring "true heroes of our nation".
"Thank you Hon. PM @narendramodi ji for renaming 21 islands of #AndamanNicobar in the names of the 21 #ParamVirChakra awardees, the true heroes of our Nation, on the 126th Birth Anniversary of the great #NetajiSubhasChandraBose. So proud! #JaiHind #ParakramDivas," he wrote on Twitter.
Akshay Kumar tweeted, "What a remarkable way to honour Param Vir Chakra winners. Saluting their bravery and sacrifices. #IndiaHonoursParamveers."
The islands are named after Param Vir Chakra awardees Major Somnath Sharma; Subedar and Hony Captain (then Lance Naik) Karam Singh, MM; 2nd Lt. Rama Raghoba Rane; Nayak Jadunath Singh; Company Havildar Major Piru Singh; Capt GS Salaria; Lieutenant Colonel (then Major) Dhan Singh Thapa; Subedar Joginder Singh; Major Shaitan Singh; CQMH. Abdul Hamid; Lt Col Ardeshir Burzorji Tarapore; Lance Naik Albert Ekka and Major Hoshiar Singh.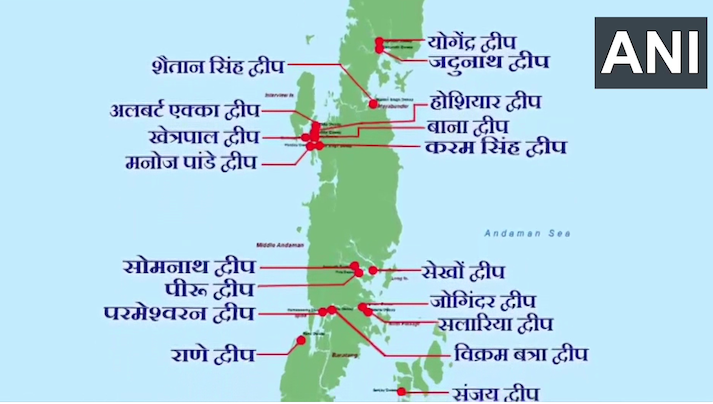 Other names are 2nd Lt. Arun Khetrapal; Flying Officer Nirmaljit Singh Sekhon; Major Ramaswamy Parameswaran; Naib Subedar Bana Singh; Captain Vikram Batra; Lt Manoj Kumar Pandey; Subedar Major (then RifleMan) Sanjay Kumar; and Subedar Major Retd (Honorary Captain) Grenadier Yogendra Singh Yadav.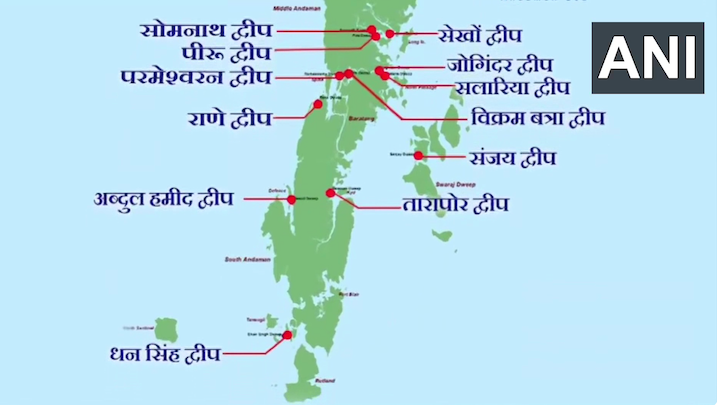 Ajay Devgn, who essayed the role of Lt. Manoj Kumar Pandey in 2003 movie "LOC: Kargil", said the decision assures that the sacrifice these soldiers made will continue to inspire generations.
"The decision to name an island after Capt. Manoj Kumar Pandey (Param Vir Chakra) is assuring that the example of supreme sacrifice for the motherland he left us with will continue to inspire generations to come. Thank you PM @narendramodi Ji.#IndiaHonoursParamveers," he wrote on Twitter.
Sidharth Malhotra, the star of Captain Vikram Batra biopic "Shershaah", said the news gave him goosebumps.
"The very news that an island in Andaman & Nicobar is named after our hero Capt. Vikram Batra leaves me with goosebumps! My heart swells with pride that I was fortunate to live his role on screen. This step taken by PM @narendramodi ensures that Shershaah lives on forever," he tweeted.
The proposed memorial of Netaji, whose model the prime minister inaugurated on Monday, will be set up on Ross Island, which was renamed as Netaji Subhash Chandra Bose Dweep in 2018.
It will have a museum, a cable car ropeway, a laser-and-sound show, a guided heritage trail through historical buildings and a theme-based children's amusement park, besides a restro lounge, an official said.