This is not just a complex but a symbol of the aspirations of 140 crore Indians, Prime Minister Narendra Modi said about the new parliament building, which he inaugurated this morning in a grand ceremony that saw attendance from 25 parties. 20 opposition parties are boycotting the event, accusing the PM of completely sidelining President Droupadi Murmu.
PM Modi said as India surges ahead, the new parliament building will also contribute to the world's progress.
"The new Parliament building will be a testament to the dawn of Aatmanirbhar Bharat (self-reliant India). It will be a witness to our journey towards a Viksit Bharat (developed India)," he said.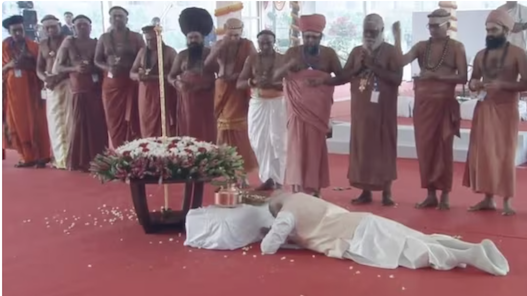 "Some moments in the developmental journey of a nation get immortalised, today is one such day…The new Parliament complex will witness the realisation of our 'developed India' resolution," the PM said.
On the historic sceptre 'sengol' that he installed in the new Lok Sabha chamber today, the PM said it was seen as a symbol of service and nationalism in the Chola empire.
"This sengol is a symbol of the transfer of power. Adeenam saints blessed us in Parliament. I thank them. It's our good fortune that we could restore the glory of this holy 'sengol'. This 'sengol' will keep inspiring us," he said.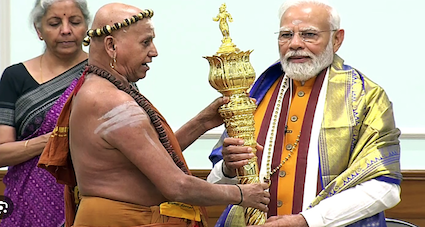 "Our democracy is our inspiration, our constitution is our resolve. The best representative of this inspiration, this resolution, is our parliament," the PM said.
The PM said the construction of the new Parliament building gave employment to 60,000 workers, and a digital gallery dedicated to them has also been built.
He said the new parliament building is a perfect example of the co-existence of the old and new.
"In future, when the number of MPs increases, where would they sit? Therefore, the new Parliament building was the need of the hour," PM Modi said.
After dedicating the new Parliament building to the country earlier this morning after a ceremony that saw a multi-faith prayer, Prime Minister Narendra Modi this afternoon walked into the new building amid chants of "Modi" "Modi" and a standing ovation for the second phase of the inauguration ceremony.
The new Parliament building is designed to enable 888 members to sit in the Lok Sabha. In the present building of the Parliament, there is a provision for the sitting of 543 Members in the Lok Sabha and 250 in the Rajya Sabha.
Keeping in view the future requirements, arrangements have been made for a meeting of 888 members in the Lok Sabha and 384 members in the Rajya Sabha in the newly constructed building of the Parliament. The joint session of both Houses will be held in the Lok Sabha Chamber.