Most of you would remember the Bikru Massacre. Oh, you don't? Then you would surely the dreaded criminal Vikas Dubey who was killed in an encounter by the UP Police exactly a year ago. This is the same Dubey who had ambushed eight policemen, including a deputy SP and three sub-inspectors in Bikru in Kanpur Dehat after tricking the police with a planted informer on Dubey's whereabouts.
Read a Times of India report: "The autopsy revealed that DSP Devendra Mishra had been beheaded and brutalized with an axe while other cops had multiple bullet wounds." Some 60 of Dubey's men had circled and left the 30 cops with no route to escape.
The Yogi Adityanath's government was outraged. Within eight days of the Bikru massacre, the police and STF together killed six of these gangsters including Vikas Dubey. It sent 45 accused to jail, including four wives who had helped their four husbands in the gang. National Security Act (NSA) was imposed on three mobsters. The Dubey gang had the best of weapons, including AK-47s.
The villagers of Bikru were joyous beyond words at this outcome. Times of India again:
"Democracy has been restored after 25 years of long gap in Bikru. Democracy or elections means little here in Bikru. None used to campaign here and Dubey would field candidates of his choice."said villagers after the clean-up in Bikru, "people this time have contested elections (panchayat) and went door-to-door and sought votes."
But guess what! the same dreaded Vikas Dubey now has support from some very eminent quarters. Satish Mishra of Bahujan Samaj Party (BSP) and Mayawati's shadow, has decided to fight case on behalf of a Vikas' cousin, Amar Dubey's wife Khushi. Sure, the woman is minor; sure sympathies are obvious since she had been married only for a week. But a year later, Mr Mishra? Your heart didn't bleed for Khushi for over a year? And now when the UP assembly elections are round the corner, it's bleeding for Brahmins?
This is no speculation on my part. Earlier this week, Mishra had held a meeting in Ambedkar Nagar in UP. It was termed a Brahmin outreach programme. And this is where Mishra bared the darkness of his heart: If 13 percent of the Brahmins in the State come together with 23 percent Dalits, then the two communities can vote the BSP to power." And for good effect, he said only BJP is not "thekedar" of Bhagwan Ram.
Read these words slowly and grasp its essence. A party whose sole existence is based on anti-Brahmin stance, on what they have done to Dalits over the centuries, is doing a strip-dance to woo them now. Hapur rape anyone? Betheti village in Jaunpur? Amethi, Hardoi and Bulandshahr? But no, they are asking Dalits to forget all that has happened in the past—and banking on stupid Brahmins to forget too the abuses these politicians reserve for them in most of their breaths.
Mayawati is not alone. Samajwadi Party's Akhilesh Yadav too has his heart bleeding for Brahmins. He too, again this week, met five Brahmin leaders, and tweeted a framed photo of Parshuram—the essential Brahmin—which these leaders had gifted to him (see image below). Samajwadi Party too would do an outreach to Brahmins in the state. Why, Akhilesh is even paying visits to Kamdhenu Temple in Chitrakoot and promising a host of schemes for the devotees.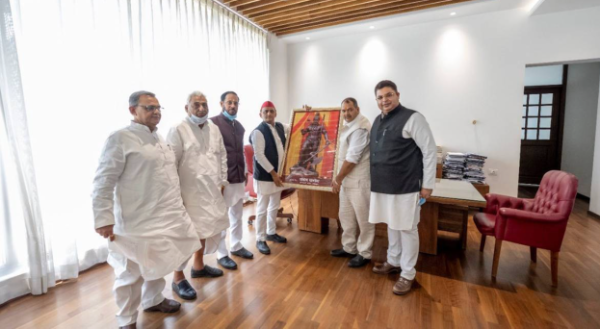 Now this is the same Samajwadi Party which has Muslims as its core vote-bank. This is the same Akhilesh who only two days back had joined hands with Rashtriya Lok Dal (RLD) president Jayant Chaudhary for Jat-Muslim votes.
But like Mayawati, Akhilesh too is confident Brahmins could be tricked into voting for him. These politicians feel that Brahmins/Hindus are easily pleased. And they are not wrong too: Mamata Banerjee recited Durga Maa's mantra during the recent Bengal assembly elections. We all remember Arvind Kejriwal read Hanuman chalisa on TV. And that janeudhari Rahul Gandhi before the Gujarat elections.
The thing is, the core voters of these politicians know that this is only for optics. Muslims in Bengal voted en masse for Mamata Banerjee and were not swayed by Abbas Siddiqui of Furfara Sharif's presence, or that of Congress, for they are looking for political empowerment. They sacrifice personal preference for political goal. Unlike Brahmins/Hindus who are swayed by respect and deference shown by charlatans at the time of elections. The Hindu votes are paid back by rape, killings and flight from own lands as is emerging from the post-poll Bengal.
I began this piece with Bikru. Let me end it with an ask on Apta Village. Don't remember? Well, it's in Unchahar in Rae Bareli. In the year when Yogi Adityanath took reins, on the day of Eid, three were lynched and two were burnt alive here. After they were killed, their bodies were dismembered. They were all Brahmins even though newspapers did their best to hide this caste identification which they never fail to do so even in sleep if it concerns Muslims or Dalits.
They all bank on the fact that you Brahmins won't remember a Bikru as you won't remember an Unchahar. You won't remember these very BSP and SP didn't have hearts bleeding on massacres of Brahmins. Why, there is talk of even having a statue for Vikas Dubey who was a "great man" of Hindu community! These politicians would come at your doors, with a tilak on forehead, a picture of Bhagwan Ram in hand, possibly touch your feet, and you would swoon on their humility.
Well, Brahmins/Hindus, you have a chance to prove me wrong in six months time.