Nupur Sharma, spokesperson of BJP, has now begun to receive multiple death threats from across the border, Pakistan.
Nupur, who on a TV debate on Times Now on May 27, mentioned an instance of Prophet Muhammad's marriage to Aisha when she was six, and consummation when she was nine, has been threatened with dire consequences after Alt News co-founder Mohammaed Zubair whipped up a storm on social media against her. (read here)
A Pakistani Twitter handle named 'Labbaikians TV' which claims to share 'The Latest Speeches and interviews of Tehreek-e-Labbaik Pakistan (TLP)' has shared the announcement via their Twitter handle. The handle announced a cash reward of Pakistani Rupees 5 million (Around 19.5 lakhs INR) to anyone who would behead Nupur for allegedly committing 'blasphemy'.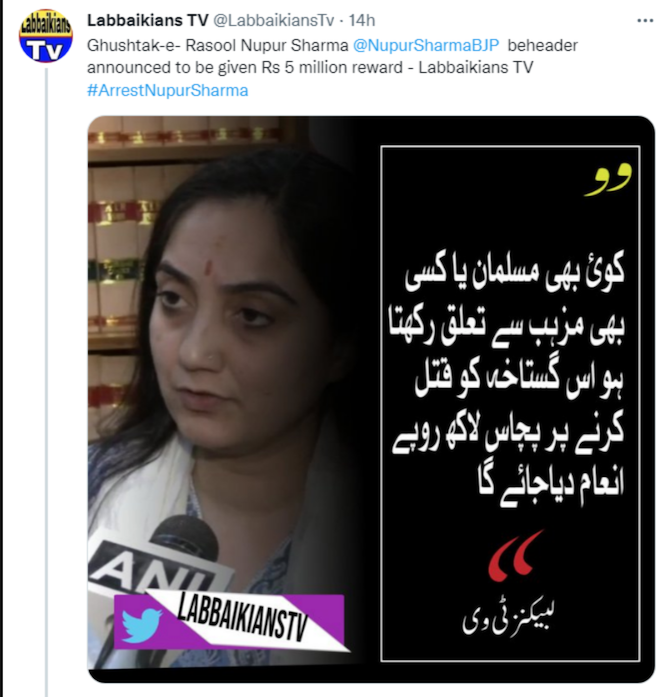 "Ghustaak-e-Rasool Nupur Sharma beheader will be given Rs 5 million reward -Labbaikians TV," the tweet read. The handle is run by supporters of Islamic extremist party, Tehreek-e-Labbaik Pakistan (TLP).
Soon after, Pakistanis began wishing death upon the BJP spokesperson and started feeling sad that they can't commit this murder because they are on the other side of the border. "Kash me India me hota to iss ka qatal kr hi data (I wish that I was in India. I would have killed her then)", read a comment by one of the users.
It must be mentioned that Tehreek-e-Labbaik Pakistan (TLP) workers were responsible for the lynching of a Sri Lankan national, Priyantha Kumara in Sialkot in the Punjab province of Pakistan over blasphemy charges. The party has been very vocal in demanding the death sentence for every charge of blasphemy.
The party was banned in Pakistan but back in November last year, the then Pakistan Prime Minister Imran Khan succumbed to the pressure of radical Islamists and gave his permission to lift the ban on the extremist group.