I am told that both Suryakumar Yadav and Arshdeep Singh have taken a lot out of practice. One conjured up runs against the dictum of field; the other looked to nail yorkers into the stumps from different angles. Both were as persistent as a cough in a church. 
Some 10 years separate them. They also took different routes to the dressing room they share today. Yadav checked in in every small, big town for Mumbai for a dozen years; Arshdeep was fast tracked from Under-19 cricket; both domiciled out of their hometowns in UP and MP to the two cities—Mumbai and Chandigarh—they call their own today.
Both got their breaks in IPL and both understood it's easy to get lost and be benched when players are falling from the trees and you are as rarely spotted as a drop in a Mumbai monsoon. So Yadav looked to score at a clip which others can't while Arshdeep bulged his trouser with gems which any captain couldn't ignore with a game on line.
Yadav says he has two or three strokes in mind to every delivery he is confronted with; Arshdeep similarly versatile with swing either way and a bumper as mean as the yorkers he could summon, like an Englishman could with his retinue of butlers during the Raj.
Arshdeep is calm at all times as when one sits for a portrait. Yadav is like a wild boar, a rattlesnake who can't stir without making a noise. Both were low on pecking order to Shaws and Iyers; Unadkats and Prasidhs but both now can't be kept out of Indian colours, one suspects even in red-ball cricket.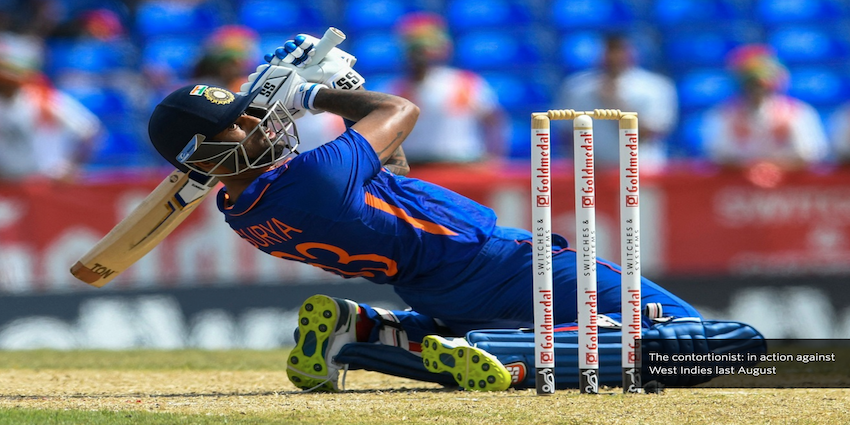 Today both have stood up to the glare of a World Cup. Their palms don't sweat up against Rabada or Nortje; or against Azam or Rizwan. Having waited for an eternity to break into the Indian team, Yadav sent his very first ball in international cricket, no less from Jofra Archer, high into the stands in Ahmedabad once; Arshdeep bowled five yorkers in that fateful over to Bangladesh on which hinged arguably the exit of India on this biggest stage of all. Such steel is as rare to see as a fair lady without a lover. 
Most would call it an uncommon Indian trait. Indians weep even to spot their child in a choir on a school annual day; cameras love picking brown faces from the crowd, tearily pleading with the Gods above for that stolen single out of a dab which would carry the day for their heroes. It's a life on edge, on nerves which fail at the slightest rumble; a heart which often doesn't lend ear to the head; a mind which is untrusting of its own worth in success. 
Then there comes a Yadav or an Arshdeep; a Rishabh Pant or a Shardul Thakur; unafraid of a big stage, an affirmation of a New India which has shed the baggage of its ancestors and dare I say, its history. Like most things in life, money is often the difference between a cheerful and sombre disposition and the IPL, for all we know, could've been the decoder in this respect.
And then you see our neighbours, Pakistan and Bangladesh, who remain excitable and liable to lose their shirts under stress. An inconsolable Bangladesh today would struggle to fathom how a 66/0 could be lost. A Pakistan was gutted against Zimbabwe on a chase doable even in a 10-over contest; possibly still under the trauma of Melbourne. You look at the West Indies who are clueless for there is little incentive to wear the maroon attire or remember "Rally round the West Indies."
It's not a Race thing but perhaps it indeed is a Race thing that "Whites", teams or their fans, don't wear their hearts on sleeve. I know there is inexcusable violence over a soccer match but it's aggression and not emotional distress. Centuries of good life perhaps has had a lot to do with such assurance. That it was we who picked up their bills is one of the tragic dichotomies of history best left unaddressed in this piece.