Indian foreign minister Dr S Jaishankar and his Russian counterpart Sergey Lavrov are meeting up again in Moscow, today and tomorrow. I can offhand count three such meetings already this year and there is a pattern which isn't going unnoticed in diplomatic circles.
It's easy to view it from a defense prism: Military trade boosts both but the two foreign ministers won't waste time in fine tuning it which, anyway, isn't their domain of decision-making. I also don't think there is too much to discuss on growing trade between the two nations which already is way ahead in meeting the $30 billion target by 2030. The Rupee-Ruble exchange mechanism is gathering pace, as it is. The mutual trade boost since February has been to the tune of 439 percent on previous figures.
Energy has never been as big a win-win for both as it is now in the midst of Ukraine Crisis. Russia became India's largest supplier of crude in October, accounting for 22 percent of New Delhi's overall oil imports.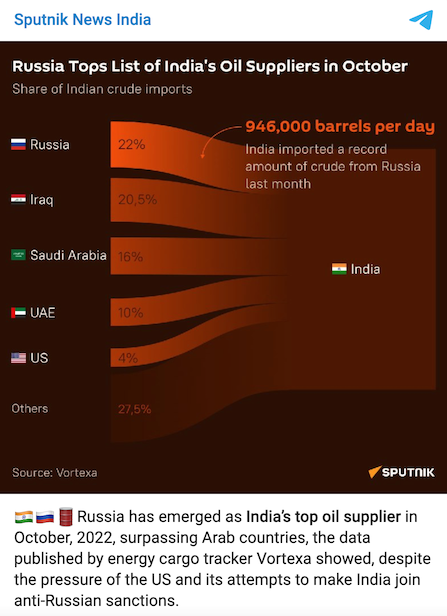 So what it is that would dominate the talks between the two foreign ministers?
The Russian foreign ministry has issued almost a routine intent for public consumption in press briefing: Cooperation in UN, the SCO, G20 and the RIC (Russia-India-China) trilateral format. The two parties would address the issue of terrorism and what the security architecture ought to be in the Asia-Pacific region. Middle East would be in discussion too, mostly around Iran and Syria.
Foreign ministers meet for a world-view where cooperation is sought and given on global and regional issues. Two events are scheduled within next week: Moscow format on Afghanistan; G20 meeting in Indonesia. Clearly the two events would be top of the list of the two foreign ministers.
Moscow format on Afghanistan would have representatives from China, Iran, Pakistan and all Central Asian nations besides Russia and India. Interestingly, Afghanistan itself has chosen to be absent from the meeting, ostensibly peeved that no international recognition has come their way for over a year since the Americans left last year.
India is worried that Pakistan has a big say on Talibans which have controlled the landlocked nation for over a year now. Even though India has aided with grains and other materials to Afghanistan under Talibans, it's also a reality that New Delhi stood with the rival powers who were replaced by the Talibans once the Americans departed. It left years of India's assiduous building of ties with Afghanistan to ruins. The talks with Talibans which preceded America's pullout, initiated by the US, didn't have India which caused enormous heartburn in New Delhi.
Afghanistan is extremely important to India. In the recent SCO meeting, prime minister Narendra Modi implored that free passage shouldn't be denied to even nations which are rivals. It was an oblique reference to Pakistan which stops India's passage from its western frontiers, denying that all important access to Afghanistan which India desperately seeks to open up the rest of Eurasia for trade routes. This is where Jaishankar could urge Lavrov to pull its weight with China and Pakistan. 
India presently is hedging big on INSTC (International North South Trade Corridor) which connects Mumbai to Moscow through Chabahar Port in Iran for land passage across Central Asia and sea route through Caspian Sea onwards. A recalcitrant Pakistan, with an amenable Taliban, is a huge irritant to such a dream.
Then there is G20 summit in Bali, Indonesia attended by 19 nations and 1 region, namely Argentina, Australia, Brazil, Canada, People's Republic of China (PRC), France, Germany, India, Indonesia, Italy, Japan, Republic of Korea, Mexico, Russia, Saudi Arabia, South Africa, Turkey, United Kingdom, United States, and the European Union. These are world's biggest economies, representing 80% of the world's GDP; 75% of global exports; and 60% of the global population. They seek policy coordination in economics and development. To a layman though, the prospect of Joe Biden and Vladimir Putin sharing the same room is a rare photo-op between two opposing world views.
Ukraine's President Volodymyr Zelensky has been invited too.
This is a rare summit where the powerful nations would knock heads around the problem of broken supply chains of world trade due to Ukraine Crisis, followed by debilitating sanctions by the United States. The cost of food and energy is hitting the roof. It would be a moment to say and be heard and it's no small gain in today's polarized world.
India's priority at the moment is to trade favourably for its citizens which doesn't add to its massive debts. It also avidly seeks access to Central Asia where China, Pakistan and Iran hold key to its mission. Tehran is amenable but the other two are uptight. Russia Calling seems appropriate for Mr Jaishankar at this juncture.