(When celebrated author Jeffrey Archer engages cricket legend Ravi Shastri in a podcast, it's Unputdownable and the only way to resist it is to yield to it. So even though it is dated—apparently before India took on New Zealand in England in World Test championship final this summer— here it is, transcribed by Bhumika Arora).
Jeffrey Archer: Hi, I'm Jeffrey Archer and welcome back to Unputdownable, the podcast that celebrates and revels in those works of art and literature that is simply impossible to put down. My guest today, here is a clue, he played for India throughout the 80s and into the 90s and in 1985 he was champion of champions at the world championship of cricket in Australia. My very special guest this week is an old friend Ravi Shastri. Now, Ravi, you'll be writing a book yourself, What's it called? And what's it about?
Ravi Shastri: It's always good to be with you, Jeffrey, love this podcast and the book's name is Stargazing. It's about the players in my life players who I have seen over the last four decades, who have not just contributed to the game, they been great ambassadors and it goes from the age of seven when I started following cricket. So, I start with Garry Sobers to Virat Kohli.
Jeffrey Archer: So you and I are going to choose a favourite book and you're going to tell me why. And then you're going to choose a favourite piece of culture and you're going to tell me why. So, let's start Ravi with the book.
Ravi Shastri: I would go back very early in my life. When I was 14 years of age and my mother on my birthday presented me a book called The Greatest by Muhammad Ali. It was the late 60s. It was a revolutionary time in America. It was things that were changing around the world. The war of Vietnam was taking place with America and Ali inspired me like no one else. You do not just play the sport, but the way to live life, to stand up for causes, to stand up for your rights, and it was fabulous stuff. Three months going into a fight the sacrifices he made, to achieve what he said, you know, the stance that he took in relinquishing titles and then coming out the winner to a world title, three times back-to-back is quite amazing, especially that Thriller in Manila, with George Foreman, you know. It was a fabulous time.
Jeffrey Archer: So you are stating for the world to know that he (Muhammad Ali) actually influenced your vibe as a cricketer.
Ravi Shastri: Yes. In many many ways because he was the premier athlete at that time. I don't think there's been a sportsman more popular than him to date, going back 100 years, He would be the global face of an athlete. Places he went to and fought in extreme conditions. I mean we complain of 35 degrees, 38 degrees. Today. He goes in Africa and at his age fights Foreman, you know, that goes all the way down to the wire. Then the fights with (Joe) Frazier in 38 degrees, 48 degrees, you know, which was unbearable.
His training methods, his discipline, the determination of the focus. The quick wit that he had. He had one of the sharpest tongue. Yes. I'm gonna float like a butterfly sting like a bee.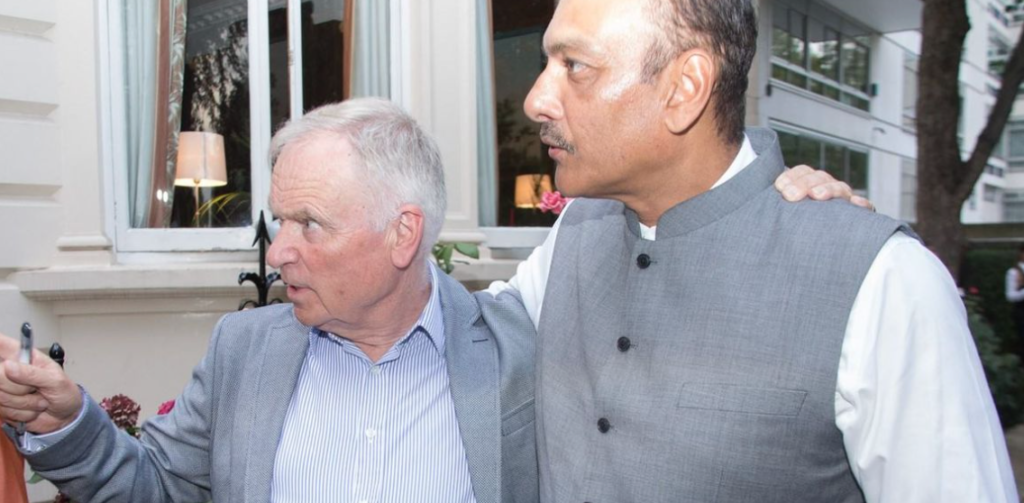 Jeffrey Archer: I'm now going to tell you my book because I'm guessing that it will be a book that affected your life as well. And that your mother having given you the greatest by Muhammad Ali may well, have given you Malgudi Days by RK Narayan, a story or 32 short stories. I think he was a great storyteller of all time. You wouldn't think it was possible to paint that and make it that you couldn't turn the page. But he in my view is the finest of all the Indian writers. Despite all the Nobel Prize winners. You have, despite all the great academics, you have. I think RK Narayan is absolutely top of the pile. You also read him when you were a young child?
Ravi Shastri: To be honest, I didn't read it. But I know my mother had it. My mother has spoken to me about Mr. Narayan as well as the book he has written because my mother was a teacher, she taught political science and history for almost 30 years in college and she would read everything and she's definitely read. She has spoken to me about him as well as the quality of his writings.
Jeffrey Archer: so we move Ravi to culture, both of us are allowed to choose a piece. Mine will come as a surprise, as a surprise only because, you know, it very well but we'll start with the piece of culture, which you have chosen other than a book.
Ravi Shastri: See, with my job at the moment that has been the travels that we have and the quarantined life that we live in the bubbles that we live in, it's always something quick, something on Netflix or Amazon, you watch it on flight or into your hotel room. So one of them is The Soup, which is on Netflix. I liked to watch Blacklist as well. James Spader, I think he's a fabulous actor, but these are the ones that you click through on a regular basis. It's not just me, It's the majority of the players. You go to the game and you come back. It's a bubble. So there's plenty of free time for Netflix.
Jeffrey Archer: As what I would call the ringleader of the team, are there extra responsibilities to keep your Indian team motivated when they're in the bubble as you call it?
Ravi Shastri: It has been the toughest year I'd been involved in the game in some capacity or the other for the last four decades but the last two years, the Covid time has been the toughest. I don't think cricket has seen anything like this since the Second World War and I've gone across with the team to multiple countries, Australia was really hard, really, really hard last year.
Jeffrey Archer: Fascinating. I'm going to tell you my choice and I've chosen a Bollywood film. My film is Lagaan, which I just, I loved it. But there were two things. I mean, frankly. We poor English couldn't handle the dancing between the innings. This was a bit much for us. But the story was wonderful. Other than the silly Indian who said to me: Gosh, wasn't it exciting Jeffrey? I didn't know how it would end. I said: Don't be stupid. It was a cricket match between England and India, I don't think the English were going to win a cricket match in a Bollywood film.
But the big thing that came out of it for me Ravi ,and I know you would have loved this aspect of it because you've always believed in Fair Play, all your life, you've set the example of that. What I loved about it was the two English umpires who remained neutral and if they hadn't, I'm thinking of that catch on the boundary, if they hadn't England would have won. But of course, they were proper Englishman. So the Indians won. I love the film. I loved it from beginning to end. It's a heroic silly story, which all we heroic silly people love. What did you think?
Ravi Shastri: I think it was fabulous. It was great entertainment. It was great insight into how the British Raj actually ruled the country in pre-independent days. It also showed you the love that the people have for the game, you know, and it's gone on from there to become like religion in India, the game of cricket. It's a fascinating story on how India was in the pre-independent day.
Jeffrey Archer: Is it still there? I ask because I think I saw it 20 years ago. Is it still popular in India?
Ravi Shastri: Yes. it was nominated for the Oscar. You know, it is still seen by a lot of people. I think the recall factor of that movie would be great amongst Indians and there's absolutely no doubt about that. Once you're nominated for the Oscars then, you know, people like to see that again and again,
Jeffrey Archer: yes. Could you explain to us poor English, Why Bollywood has been such a success? Can you put a finger on it?
Ravi Shastri: I think pure entertainment what you get and that is why if you look at the IPL its so successful because it gets the mix for cricket, Bollywood, Tollywood, you know, you get people from all walks of life. This is a recipe for success straightaway and that's why it's such a big hit. We are missing the movies, not being in the theatres.
Jeffrey Archer: Now, I'm going to ask you a tricky one. I am 81-years-old Ravi and I love Test cricket when I saw you in your pomp in 1985. When you were winning award after award including the champion of champions in Australia. What I wanted out of you was five days of cricket. Now, I can tolerate the one-day game just about 50 overs each. I'll live with that, but I'm not a 20-20 man, I wanted to ask your opinion frankly, has Test cricket got a future?
Ravi Shastri: It has a future. I think Indian team has been a great ambassador for Test match cricket over the last five years. Virat Kohli worships Test match cricket which might come as a surprise given the amount of white-ball cricket India plays. If you ask any player on this, 95% of them will say we love Test match cricket. It shows too as India has remained the number one team.To win everywhere around the world and to set a benchmark in red-ball cricket with fast bowlers is quite remarkable.
Jeffrey Archer: I worried about the fact, you have these wonderful children who must be in the villages. Do they have any chance at all of standing on the pitch as a member of the Indian Test team?
Ravi Shastri: Absolutely. In fact, it's already changed. It has changed drastically. When you talk of test match cricket, the interest in the metros is not the same as it is in the tier-three cities in India because they are craving to see the stars. If you look at the team today, there are very few players who come from the metros, you know, some 20%; everyone comes from the outskirts of India. And because the game has spread it in such a huge manner. Where there are multiple stadiums. There might be about 25 stadiums around the country where you can play cricket under lights with great outfields, unlike what we had in our times.
Jeffrey Archer : Final question Who is the greatest batsman you've ever bowled to? And who is the greatest bowler?
Ravi Shastri: Without a shadow of doubt, The greatest batsman is Vivian Isaac Alexander Richards. I must have played about 19 or 20 matches against him. In his prime, He was an outstanding player and he's right there.
What made him different from other was He would really mess up a good game of cricket. He comes and just screwed up, you know, just the way he played in a matter of minutes and he does that once or twice, against us in Test matches. wonderful. Wonderful his ability to pick up length and play the hook and the pull and destroy fast bowling was unmatched. And I don't think I've seen a more dominant player, you know, to date against that quality bowling. He never wore a helmet, he just smashed it. And the best bowler. I would say again is a West Indian. And we happened to play him at his peak, right through the 80s. His name was Malcolm Marshall. He was wonderful, wonderful exponent of fast bowling. He got all the tools of the trade. He got wickets in every part of the world. wherever he went, He was a champion.