Three nuns of the Missionaries of Charity blocked my way, virtually slamming the door face. I was at the Mother's House in Central Calcutta. I wanted to meet Italian actress Gina Lollobrigida.
I think it was early 1990. The sultry Mediterranean diva had flown into the eastern Indian metropolis to meet Mother Teresa and see the works of the Nobel laureate
I sat on the footpath next to Mother's House, I could only wait in hope that I would be called in. Giving me company were beggars of all sizes and shapes. They routinely came to Mother's House for their frugal breakfast of bread, porridge and milk.
Almost an hour had passed, I was losing hope. I knew Lollobrigida was inside Mother's Home, meeting Teresa and listening about her works of the Missionaries of Charity, a sisterhood of over 3000 nuns worldwide. Lollobrigida wanted to take photographs of Teresa and her nuns who wore blue-bordered sarees and worked tirelessly throughout the day.
And then the door opened, a senior nun looked out for me and called me in. Even before I could thank her, she told me very curtly that Lollobrigida would not answer any questions about her life and movies. "This is a special mission for her," the nun said very curtly.
"What is the mission?" I asked.
"She will tell you," replied the mother superior.
I sat on a tool in the expansive courtyard of Mother's Home, surrounded by nuns in blue-bordered sarees. Some washed clothes, some cleaned utensils and some mopped the floor. They were quite oblivious of the star visitor who was with Teresa on the first floor.
Finally, the call came.
"She has only five minutes and you should let her speak," I was warned.
And then I saw Mother Teresa, and Lollobrigida. By then, the veteran actress had finished taking photographs of Teresa and her band of sisters.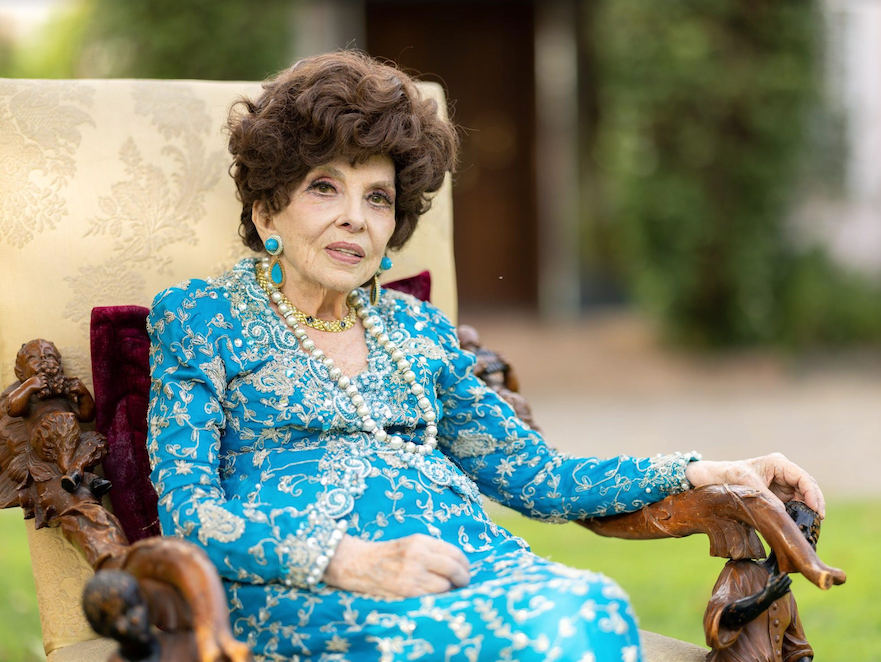 She looked stunningly beautiful in a red top and a crimson coloured skirt. She wore no jewellery, only simple ear rings. Yet, she was mesmerizing, even in her 60s. It seemed to me she used simple makeup.
"I am not here to promote movies, I am here to see some selfless work by someone who is not even from this city, not even from India. I have heard about Mother Teresa and her work," said Lollobridiga.
"Very few in the world work for the poor, Mother Teresa is one of them. I am amazed at her work, and the work done by her sisters," said Lollobrigida. She did not say if she had visited Nirmal Hriday, the first home set up by Teresa next to the iconic Kali Temple.
"Calcutta is my favourite place, the best place on earth," Lollobrigida quipped.
I could not help, and asked almost instantly: "Why don't you stay here then?"
Lollobrigida shot back: "Where should I stay?"
I had a ready answer: "Why, the Oberoi Grand Hotel?"
Now both Teresa and Lollobrigida smiled. It was my time to leave. I turned to Teresa and asked if she would say something. True to herself, Teresa replied slowly but firmly: "Let more and more people work for the poor, the homeless."
I met Lollobrigida again at the majestic Oberoi Grand, she was surrounded by hundreds of photographers and pesky reporters who asked her all sorts of questions. She replied to some, ignoring the rest.
She knew how to handle reporters. After a few hours, she packed her bags for the airport.
Lollobrigida, who represented Italy's vibrant rebirth after World WarII, died aged 95 in a clinic in Rome, her former lawyer said on Monday.
Lollobrigida acted opposite top Hollywood stars such as Humphrey Bogart, Rock Hudson, Yul Bruner, Burt Lancaster, Tony Curtis and Frank Sinatra. She was one of the most recognizable icons of the 1950s and 60s.
"Farewell to a diva of the big screen, protagonist of more than half a century of Italian film history. Her charm will remain immortal. Ciao Lollo," Italian culture minister Gennaro Sangiuliano wrote on Twitter.
Lollobrigida became a photographer and sculptor after stepping away from movies. Last September, she failed in a bid to win a seat in the Italian parliament for a leftist political party at national elections. She was also a goodwill ambassador for the United Nations Children's Fund (UNICEF), and its Food and Agriculture Organisation (FAO).
Between 1972 and 1994 she published six books of her photographs, including Italia Mia (My Italy), The Philippines, and the Wonder of Innocence, photographs of and for children. In 1975 she made a documentary film "Portrait of Fidel Castro," and for years there were rumours that she had had an affair with the Cuban leader.
One of her last appearances was a cameo in an Italian film in 2011.
Of late, she divided her time between a secluded villa behind walls on Rome's ancient Appian Way in the southern part of the Italian capital and the Tuscan artists' colony of Pietrasanta, where she kept a sculptor's studio.
(Shantanu Guha Ray is a Wharton-trained journalist and award-winning author. He lives in Delhi with his wife and two pets.  He won the 2018 Crossword award for his book, Target, which probed the NSEL payment crisis.)