What about Nepotism in Publicly Quoted Companies?
In his Independence Day speech from the ramparts of the historic Red Fort, the Prime Minister Narendra Modi made a reference on the affliction of nepotism and how it harms the nation. He said that because of widespread nepotism, the talent often gets side-lined. The PM also made it clear that nepotism was not just a matter of concern in politics but in other spheres of life too.
I may go a step further and say that politicians are often under the microscope while the others go scot-free.
Even the most powerful politician has to hard sell his son or daughter to his supporters first. He then has to lobby with the High Command of his party to get a party ticket for his kid and eventually the voters have the right to select or reject the star kid during elections.
On the other hand kids succeeding their parents in businesses, big and small is routine. In partnership and private limited companies, this is not an issue. The money belongs to the owners/ partners and they have complete freedom to do how they run their companies.
However when it comes to succession issues at the publicly quoted companies, the matter assumes greater importance as stakeholders are many and majority of them have no say in the management decisions.
One bad leader can destroy the wealth of a company and obliterate the savings of thousands of small shareholders.
A bad succession plan can wreck the balance sheets of the lending banks.
There have been a few cases when an established business has crumbled because the sons or daughters of promoters of the business were found wanting in vision and execution and were simply unworthy of succeeding their fathers.
Not far from my house is Kotak Mahindra Bank, the fourth largest bank in India in terms of market capitalization, with a market cap of Rs 3.66 trillion. Kotak Bank is ahead of Axis Bank and falls behind HDFC, ICICI and State Bank of India in terms of market capitalization. Kotak Mahindra is a powerhouse of a bank. It is a super duper success story in the last one decade.
Kotak's share was trading at Rs 1,841 last week.
The founder of Kotak Mahindra Bank is the incomparable banker of our generation, Mr Uday Kotak. He is hailed as the embodiment of professionalism and is considered one of the most ethical business leaders of India.
Mr. Uday Kotak holds about 26% stake in Kotak Mahindra Bank. The 26% stake may be directly held by Mr Kotak himself or through his close knit group. I have absolutely no objections to Mr Kotak holding 26% stake in the bank that he founded. My problem is with the fact that his son, a 32 year old Jay Kotak is being talked about as the natural successor to his illustrious father. This sounds nepotistic to me and I am not comfortable with it, my personal respect for Mr Uday Kotak notwithstanding.
Jay Kotak started as the Executive Assistant to the President of Consumer Banking Division of Kotak Bank. In three years Jay Kotak has been promoted as Co-Head of Kotak 811, India's first full service digital banking initiative.
A 32 year old Jay Kotak has been made Co-head along with a professional worker, Manish Agarwal who has been spearheading Kotak 811 initiative since its inception. Manish has 17 years of banking experience as compared to Jay's just three years. There have been reports in newspapers that Jay Kotak is being readied for the top role at Kotak Mahindra Bank.
The question that comes naturally to one's mind is if Jay Kotak is such a precocious youngster that he must be allowed to leapfrog people who may have many more years of experience and proven leadership?
An argument that is often given is that publicly listed companies are run by professional boards and the board of a company decides whose career should be fast-tracked and who should be pitchforked in the leadership role. But then isn't the Board packed by the trusted men of the powerful promoters and foreign institutional investors (FIIs) who just look at the top line and the bottom line numbers and leave the human resource management with the promoters?
What about the meritocracy issue in large publicly quoted companies? Is meritocracy subservient to nepotism?
What about the opinion of minority shareholders- if they too share this strategic vision of Jay Kotak succeeding Uday Kotak?
The matter of nepotism in listed public companies may not look as grave as the case of nepotism in political space but this is because not many in the Press talk about it. It also escapes attention as it is not a matter of much interest to the general public.
The most capitalised company in India- Reliance Industries Limited (RIL)- also faces such problems. The executive chairman's children are set to take up key leadership positions in Rs 17.8 trillion company (by market cap).
I quote from 'Mint', the business daily that "Mukesh Ambani's children are at centre of leadership change at Reliance Industries."
In fact Mr Mukesh Ambani, the most successful business leader of India in the last three decades, has handed over the chairmanship of the telecoms unit to his son, Akash Ambani.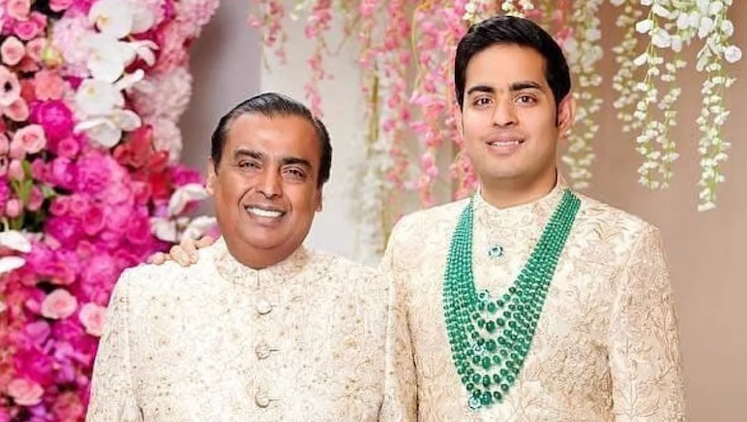 I have no doubt that Akash Ambani is a very intelligent and visionary business leader but is he mature enough to take up the executive chairmanship of telecom vertical that is the number one mobile carrier of the country.
Akash is just 30 and even if the Ambani family has about 49% stake in RIL, does it make Akash an automatic choice to succeed his father?
The telecom vertical of RIL has Rs 85,640 crore revenue. Can a 30 year old young man be allowed to be its Head just because he is his father's son?
I agree with many of my friends who say that Jay Kotak is a brilliant young man and that Akash Ambani is as dynamic and astute a leader as his father is. It is said that a fruit doesn't fall far from the tree. Someone like Mr. Aditya Vikram Birla was succeeded by his son Kumar Mangalam Birla and the son transformed the business empire from a $2 Billion revenue (in 1995) to over $ 45 Billion (FY 21). Nevertheless when KM Birla took over from his father, and indeed when Mukesh Ambani took over from his father (the late Dhirubhai Ambani), the times were different. The shareholders were not very assertive, corporate governance was alien to Indian businesses and talented business leaders were not easy to find. The competition wasn't that stiff then and business needed continuity more than anything else.
Today the scenario is very different as disruption is a norm and stability, an exception.
That is why companies like Infosys and TCS have no family members running these company. The steady growth of companies run by professional boards- L&T, HUL, Titan, HDFC, ITC, Axis Bank- proves that one doesn't need promoters to run the company on day-to-day basis.
A very old, respected and rapidly growing company like Dabur has a professional CEO, Mohit Malhotra, who runs the Rs 11,000 crore revenue company, without much of meddling from the promoter group.
It is about time the promoters of big and respected business houses learn to separate the management from the ownership, as much as possible. Even if the patriarch wants his son (or daughter) to succeed him in business, the youngster should be selected for the top position only after he/she has gone through the same process of rising through the ranks as the other management trainees undergo. A tall ask? I am sure, yes. Nonetheless it is time we opposed the rise of a promoter's son by jumping ten levels of hierarchy.
The most that I, a tiny shareholder, want to allow is carefully calibrated fast-tracking of careers with long periods of handholding.
The PM has done well by starting the debate. It is over to Mr Kotak and Mr Ambani and several giants like them.
(Dr Sudhir Bisht (PhD) is a long-time presence in national and international companies in oil retail sector as well as in Telecom infra sector. He has also been an author and a consummate writer in the digital world, including on rediff.com, for over two decades now)