(This is the fourth piece in a series on '71 Indo-Pak War which is celebrating its 50th year this year. The first , second and third piece could be read by clicking on links).
In the 1965 India-Pakistan war, the Indian army faced lots of problems and serious setbacks because of lightening raids by Hurs. It is a sect of Sufis headed by Pir Pagara who has good numbers of adherents in the Sindh province. The Pakistan Army used these irregular but ferocious fighters to good effect and the Indian side saw the capture of several posts in Rajasthan area. The tactics used by the Pak side were very similar to what they have done in the past too. Some professional soldiers of the Pak Army leading irregulars as they did in 1947-48 operations in Jammu and Kashmir.
After the 1965 war, the Indian and Pakistani sides met at Tashkent in trying to disentangle. The Indian side was led by then Prime Minister Lal Bahadur Shastri who did not live long after the Tashkent agreement. The setbacks in the 1965 wars taught some important lessons to the Indian planners that they needed trained commandos to conduct similar raids. A force which was nimble in its movements and could surprise the enemy with its firepower as also daring.
Earlier, in World War II, the British Special Air Forces (SAS) conducted some long distance raids and Sir David Stirling, the founder, was a pioneer of this concept. Using it to inflict substantial damage to the adversary in North African campaign. Thar desert in the Indian sub continent was far more challenging in waging these types of battles. Some Indian soldiers had also participated in the North African campaigns and they knew the utility of such strike force.
Learning lessons from the 1965 war and drawing inspiration from the SAS campaigns, the Indian Army raised a specially trained unit meant for desert warfare. The elite fighting force, 10 Paras, was raised in Gwalior in 1967 and later came to be known as Desert Scorpions. The name is itself evocative as the scorpions are deadly venomous in most desert areas. When they sting, it is extremely painful and can cause serious complications.
In 1971 war, the 10 Paras proved Desert Scorpions was a name well earned as they attacked Chachro, going deep almost 80 km into Pakistan territory. They were laid by Lt Col Sawai Bhawani Singh, Prince of Jaipur, who was awarded Mahavir Chakra for his unparalleled leadership, bravery and actions. In fact, Surgical Strikes is a coinage that gained currency after September 2016 when Indian commandos conducted raids on terrorist camps run by Pakistan. The men of 10 Paras were those who conducted the first surgical strikes, causing devastation in the enemy territory and all of them remained unscathed.
Their success on the battlefield was the result of long, hard and sustained five-month training from June to November 1971. The raiders used jeeps and jongas fitted with light armaments for fast movement to throw Pakistani Rangers into disarray. The route they had to use to reach Chachro was so bad that their vehicles made huge noises as if several tanks were moving forward in tandem, racing towards an objective. Incidentally, noise is not suitable for commando attacks as stealth and surprise are two prime elements most commando units thrive on.
Ironically, even the loud noise helped them as the defenders actually thought that Indian tanks were attacking them! This confusion led to a situation where the enemy abandoned its defensive positions and took to heels. The intrusion into Pakistani territory was effected by the Desert Scorpions on December 5 and culminated in attack on Chachro two days later. Chachro was then handed over to other Indian Army units following which moved in after the fall of Chachro. The men of 10 Paras then raced towards new objectives and the ran over Virawah, Nagarparkar, Islamkot and Lunio also.
By the end of the short war, which lasted barely a fortnight, 10 Paras were instrumental in capturing around 13,000 sq km of Sindh. They raced ahead, as if unchallenged, from one objective given to them to another, and stopped just short of the city of Umarkot! The most incredible feat was these men suffered no fatalities in several dangerous missions in hostile territory. Many of the commandos were Khoja Rajputs who knew the desert terrain so well and that proved to be of immense help. Khoja Rajputs (derived from word khwaja, an honorific) were long ago Lohana Rajputs who trace their ancestry to Luva, son of Shri Ram!
The MVC citation for Lt Col Singh reads as follows:
Lieutenant-Colonel Sawai BHAWANI SINGH (IC-9015), The Parachute Regiment
"On the night of 5 December 1971, Lieutenant Colonel Sawai Bhawani Singh, who was commanding a battalion of the Parachute Regiment (commandos), led his men deep into the enemy territory and for four days and nights, with complete disregard for his personal comfort and safety, made skilful and relentless raids on the strongly held enemy posts at Chachro and Virawah. His inspired leadership and personal courage led to the capture of large areas of the enemy territory and created panic and confusion among the enemy, forcing them to retreat leaving large number of prisoners and equipment.''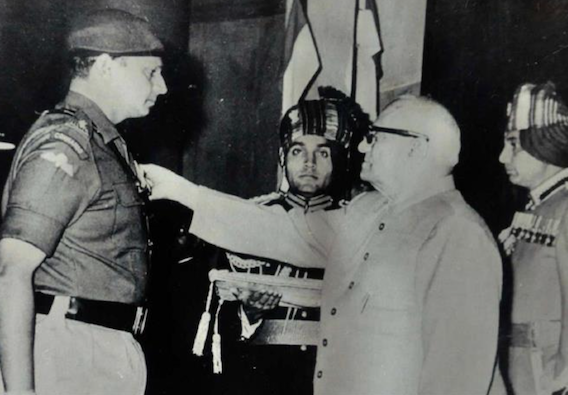 In all, men of 10 Para traversed about 500 km in their four wheel drive powerful jongas fitted with light arms. These extraordinary men had commenced their actions on December 5, set up their base on December 6 night, just a few kilometres short of Chachro, their first objective, and carried out the raid at 3 am on December 7. After rampaging through large enemy territory for the next four days, they returned to the Indian side on December 10. The first week of war proved to be a time when Pakistan suffered several defeats on both the eastern and the western front (East and West Pakistan).
West Pakistan got severe pounding in the hands of the Indian Army, Indian Air Force and Indian Navy, all three, during the 1971 war. In fact, Indian Navy started celebrating Navy Day on December 4 later to commemorate its raids on Karachi harbour on that day in 1971. The first raids on December 4 inflicted considerable damage to Pakistan naval ships and the second wave of raids three days later virtually led to a blockade of the Karachi harbour. But that is another story, worth being recounted much in detail.
Sant Kumar Sharma, a seasoned journalist, is an authority on Jammu and Kashmir. Two of his books on Article 370 and Delimitation are already out. The third one on Indus Waters Treaty is now out and could be bought here.
Sant began as a teacher but after six years, joined the Indian Express, Chandigarh in 1990, the year when terrorism was taking its first step in J & K and soon there would be exodus of lakhs of Kashmiri Pandits from the Valley. He subsequently worked for The Statesman, The Times of India and Star News among others. He is based in Jammu since May 2000.
He edits epaper.earthnews.in, a newspaper from Jammu presently.