A special child is denied boarding at Ranchi Airport for an Indigo flight by an airline official who under most circumstances is the Judge of the Fact for situations and has ultimate responsibility as well as accountability for the safety of the flight, passengers, crew and cargo onboard.
I have been witness to emotionally charged passengers or passengers under the influence being denied boarding at more than one occasion and despite the protestations of others, the decision of the man in charge is final, because he or she also carries the direct responsibility. I
myself have been through panic attacks at various occasions, including on flights and most recently at a visa interview, where my clothes have been soaked through and through. As an ex-seafarer, I may have stopped myself from boarding if I observed my panic attack, which is also a fact.
A train, the 12449 from Chandigarh to Madgaon, is brought onto Platform 4, under heavy repairs and thus blocked, at Hazrat Nizamuddin in reverse order of rake formation. The halt is for all of 2 minutes. Panic ensues as there is no advance information and a huge number of passengers of all ages, with baggage, are running in both directions. The Guard (Train Manager) sounds his whistle, the engine driver (Loco Pilot) blows the trumpet horn, both of which can hardly be heard over the din of mixed operational and commercial noises. A series of social media interactions and public grievances bear not even a response because it seems nobody is accountable or responsible. Panic ensued for me, certainly, on Platform 4 at NZM on the 7th of May 2022.
The doubling of a strategic sea-border connecting railway line, Madgaon to Hubbali or specifically Castle Rock in Karnataka to Kulem in Goa, is cancelled by the powers that be for environmental reasons. There are schools of thought as well as facts for and against this, but what can be more important than National Interest, especially defence, economic as well as military, appears to be not part of the narrative. Who is responsible, can also think about how successful for everyone's interest the Konkan Railway, now electrified and mostly doubled, can be. Incidentally, doubling of a railway line, increases the capacity utilisation by multiples much more than simply double – as anyone whose train has had to wait on a single line section for a cross or overtake, will know. Panic ensued with the Portuguese Army in December 1961, certainly, when they realised that the Indians had simply taken over the Railway Line being discussed in this paragraph.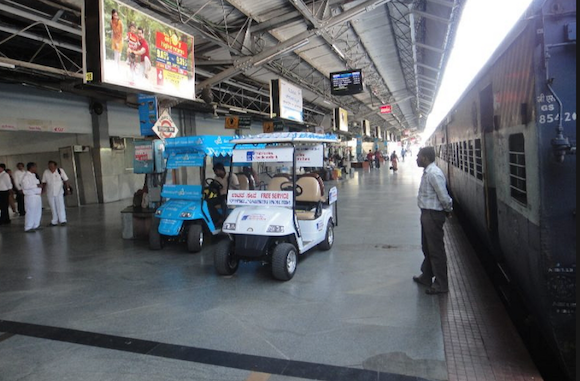 But then, very often in India, judgement is passed or narratives are built, by people who have not really left the comfort of their large city environments for a long, long time. And when they have, their tolls are waived, their train tickets as well as reservations are paid for and most certainly train configurations as well as protocol ensures that they do not have to risk their lives when a rake that has its configuration reversed steams in.
Travel by train is a good way to observe how, despite these situations designed to put people through panic, the country is truly moving ahead. Nothing reveals this better than the Konkan Railway alignment. With rakes full of loaded trucks moving in both directions, people moving in new alignments like Surat to Ratnagiri and back, and a general feeling of purpose as well as affluence visible at locations en route – except when heading in and out of Metro cities en-route like Delhi and Mumbai – is hugely revealing of where we are headed in India.
The biggest observation in this short article on intentional panic on one side, and calm focus on going forward on the other side, and different aspects therein – is simply this – get on the train to see how India is moving ahead. The biggest example of this, for those who know the way the Bhil area of Jhabua was till a few decades ago, is to keep your eyes open as the train ambles through Meghnagar.
A Nation moves forward when those in charge know how to pre-empt and take charge of panic inducing situations.
(Veeresh Malik was a seafarer. And a lot more besides. A decade in facial biometrics, which took him into the world of finance, gaming, preventive defence and money laundering before the subliminal mind management technology blew his brains out. His romance with the media endures since 1994, duly responded by Outlook, among others.)