Kubbra Sait, India's youngest Indira Gandhi, does not seek headlines, actually headlines come to her. 
She talks of everything with consummate ease, love, friends, movies and roles. Her book has hit the stands, she talks about her characters that often serve to hold up the narrative like the emphatic best.
Her Open Book: Not Quite A Memoir by HarperCollins, is a brilliant autobiographical account of what she did on her own, what happened to her unknowingly.
Sait, popular for her role in the web series Sacred Games, bared it all, including some shocking disclosures ranging from sexual abuse as a child star to a sudden pregnancy that she handled like getting the first fried chicken in life. Sait has handled her life with class, total class. If she was Mirzapur, another popular serial on the OTT platform, Sai would have definitely said Apne Ko chahiye full izzat.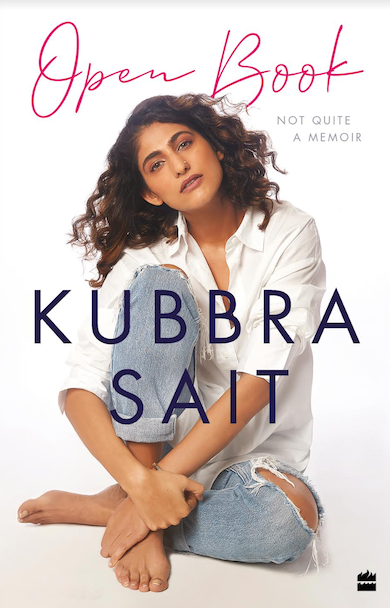 The book talks about many things, including how her characters start like the kindly stranger but eventually ends up as the movie's most kindly medium. Now remember, she is not the top of the line star, sometimes her roles would not even cross two pages of a director's diary. She has handled calls from producers and directors saying we have got a great role, or we just have a side role for you. Sait has excelled in all, made all characters – big or marginalised – memorable.
I read somewhere how, as a transgender, on the sets of Sacred Games, she broke down into a paroxysm of sobbing because director Anurag Kashyap wanted to do the shot seven times. But then she emerged, and walked into glory. And she has done it time and again, she writes in the book.
Life of filmstars is always in a bubble, and it is for the filmstars to ensure that the bubble stays that way. At any cost, it should not burst. Not for Sait, she can easily create a million bubbles for herself, and walk in and out of those bubbles. Sait makes it very clear in her book that she has continued to conceive these intricate stories (read roles) time and again.
She is not only beautiful, but she is bold. A single night stand in 2013 – the year when Sachin Tendulkar retired from cricket – got her pregnant but she threw it out of her system within a week. She wants children in life but she says in the book she is not ready for a marriage. Who knows, she may not even like the Big Fat Indian Wedding also.
Read her words: "I don't understand the pressure of getting married at 23 years old and afterwards having a kid at 30 years old, it is a set rule. I realised I was not prepared and I regret absolutely nothing about any choice I made in my life." This is Sait.
She hit the stage as a young Indira Gandhi when she was barely five, and by eight, she wanted to throw in the baton five years later because she was bullied. An interesting personality development programme changed her life and there was no looking back. She put all doubts of life behind her.
She knows the Indian film industry works on pills, pulls and pushes. Safety is never guaranteed. You get one big paycheck, and then immediately you get a small paycheck that can make you hungry, very hungry for the next, fat paycheck. That's the million-dollar truth. And one day, you will see your movie is making millions on OTT platforms, and in movie halls.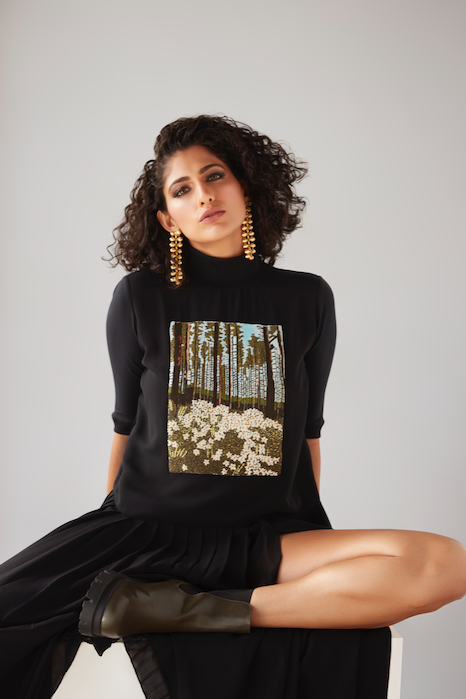 The book does not say if she has many mentors in Bollywood, it does not say if Hollywood directors are lining up outside her door, it does not say if she has found a George Clooney or if is hanging out with the big boys of India's movie industry that is also the world's largest. The book is about her, her life and her confidence. She is focused, claims the book, on all kinds of leaps in life.
Sait still looks like the teenager with a baseball cap in Bollywood. She has her friends in Bollywood, who helped her sail through life's toughest crisis during the pandemic. Sait knew income was low but she kept her head above the waters. Her focus can help her trace old-school girls in the boardrooms. The book makes it clear that she has confidence in herself and her stories, life's powerful medium.
With her magnetic presence, Sait bristles with ambition to do everything she is doing. It is called confidence, she knows her game. She wants to look cool so that filmmakers put her photographs on their Pinterest boards.
Sait wants to grow without the benefit of Google. The book is a fascinating read.
(Shantanu Guha Ray, a Wharton-trained journalist, is the Asia Editor of Central European News & Zenger News and an award-winning author. He won the 2018 Crossword award for his book, Target, which probed the NSEL payment crisis.)