Home they brought her warrior dead:
She nor swoon'd nor utter'd cry:
All her maidens, watching, said,
"She must weep or she will die."
Then they praised him, soft and low,
Call'd him worthy to be loved,
Truest friend and noblest foe;
Yet she neither spoke nor moved.
Stole a maiden from her place,
Lightly to the warrior stepped,
Took the face-cloth from the face;
Yet she neither moved nor wept.
Rose a nurse of ninety years,
Set his child upon her knee—
Like summer tempest came her tears—
"Sweet my child, I live for thee."
Jayshankar Saha, a football fan, died from a severe heart attack watching his team lose a crucial match in Kolkata on October 29, 2022.
Saha, 36, was a supporter of Kolkata's East Bengal Club that has a strategic tie-up with Manchester United. His club lost to arch rival Mohun Bagan 0-2, it was the seventh straight defeat for East Bengal, a 102 year-old club.
Saha collapsed in the stadium, and was rushed by his friends to a hospital where the doctors said Saha was brought dead.
Saha's death plunged Kolkata, a city of high sentiments and artistic temperament. Fans lit candles, some wept, some brought garlands to decorate his body before cremation.
Sports cognoscenti in Kolkata felt Saha's death once again highlighted a maddening outpouring of emotions from fans for clubs whose rankings are nowhere as per Asian standards. India is ranked a lowly 106 out of 211 in the FIFA rankings.
"Fans do not worry about the Asian ranks, for them the club is their mother," says Dipanjan Roy, 60, a corporate honcho who has followed the clubs since he was a school student.
"Love affairs have ended, students have changed colleges, marriages have ended on the rocks only because of this rivalry. It goes over the top at times," says Roy.
The clubs may not have loads of cash but these clubs have a great supporter base and have a tinge of history.
Mohun Bagan is Asia's oldest club, it was formed in 1889. Bagan's barefoot footballers won a crucial final of the Indian Football Association (IFA) shield against East Yorkshire Regiment, a British club where players wore football boots with studs and had a tremendous advantage during the match.
"This match was seen as a major moment during India's push for Independence. So when Mohun Bagan takes to the pitch, there are loads of high-voltage sentiment among its fans. The same goes for East Bengal fans who are very boisterous and hyperactive. And there are times when such unfortunate incidents happen," says Roy. He says he is a diehard East Bengal fan.
Saha's death, expectedly, stunned his family. His wife, distraught, broke into a paroxysm of sobbing, and then fell into total silence. The silence was broken when she saw her six-year-old daughter.
An eyewitness told this reporter from Kolkata that he was reminded of Alfred, Lord Tennyson's epic lines from Princess: Home they brought her warrior dead. The distraught widow – almost like the wife of the dead soldier – clutched to her only daughter. It was a very tearful scene.
Hundreds of mourners gathered outside Saha's home in Baruipur, a historical town in Kolkata's southern fringes where centuries ago Chand Saudagar, a mythical merchant, anchored his ship before proceeding to the sea.
Senior officials of East Bengal Club visited Saha's home, and assured his family of all financial help. Officials of Mohun Bagan Club, which defeated East Bengal in the crucial match of Indian Soccer League (ISL) by 2-0, were also present at Saha's residence to offer their condolences.
A top official of East Bengal, Debabrata Sarkar, told reporters that the club will bear the education costs of Saha's daughter.
Could Saha have been saved, many are asking now?
It is reliably learnt that there was no facility for the fans to carry bottled water inside the stadium. Saha – claim those who brought him to the hospital – repeatedly asked for water. Match organisers prevent sale of water bottles inside the stadium because the same is often thrown inside the pitch by angry fans. There have been many occasions when matches have been disrupted because of such hooliganism.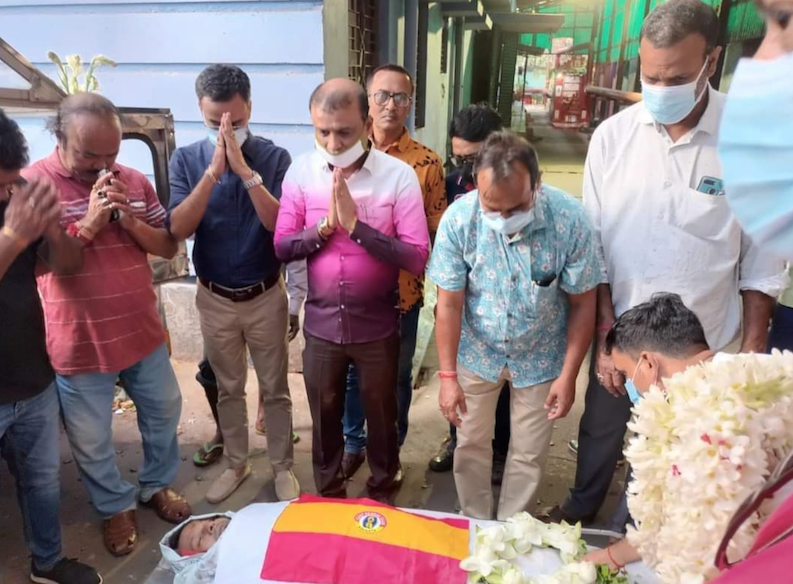 But organisers of football matches in India have rarely found ways to beat the crisis of not allowing water bottles inside the stadium, except the lounge. In cricket matches, huge, transparent nets are fixed before the galleries to prevent such incidents.
Sentiments always fly high when these two clubs, traditional rivals, meet, especially in Kolkata. The match on October 29, 2022 was witnessed by nearly 65,000 fans. The stadium has a capacity of 85,000 fans. An average Manchester United match draws 55,000-72,000 spectators.
Deaths during football matches in India, especially Kolkata, have often been blamed for lack of medical facilities.
On August 16, 1980, 16 people were killed in a stampede and riot inside Eden Gardens during a Mohun Bagan-East Bengal Calcutta Football League match. An estimated 600 were injured.
In 2005, Brazilian striker Cristiano de Lima Junior collapsed during a match and died due to lack of medical support. The organisers had not kept a doctor at the ground because the charges were $12 per match.
There have been other incidents where fans have fallen off overcrowded locomotives and died on the spot.
In February 2020, Tinku Das, an ardent fan of Mohun Bagan Club, hanged himself from a tree close to the club grounds in Kolkata. Das, who once played cricket, lost both his legs in an accident. When cops found his body, it was draped with a Mohun Bagan flag. Das had told his friends about his depression of not being able to watch matches of Mohun Bagan in a wheelchair.
And way back in 1975, a young Mohun Bagan fan committed suicide after his club lost 0-5 to East Bengal. In the suicide note, he wrote to his parents that he would like to be reborn as a Mohun Bagan footballer and defeat East Bengal by the same margin.
Then, there are other strange sentiments.
Matches have been delayed in Kolkata after teams refused to take the pitch first, arguing the team that entered the pitch first often ended up as the losing side. Now things have changed because both sides enter the ground side by side as per FIFA rules.
"There is a socio-economic angle to this entire madness. The fans mostly come from outside Kolkata; they are all but fanatic supporters. Their club is their handle to life," says Joy Bhattacharjya, one of India's top sports producers.
Bhattacharjya, who has witnessed such immense madness while producing high-voltage matches in Kolkata, says such sentiment is unique to the city. "There are examples of such extreme reactions in some matches in South America, also Africa. Perhaps the time has come to keep such sentiments in check. Saha's death is definitely an alarming call."
Eyewitnesses say the crowds have thinned outside Saha's home. Sentiments always thin after cremation, life's struggle starts.
(Shantanu Guha Ray is a Wharton-trained journalist and award-winning author. He lives in Delhi with his wife and two pets. He won the 2018 Crossword award for his book, Target, which probed the NSEL payment crisis.)