Arvind Kejriwal is in trouble. Delhi's air is so bad—popularly attributed to stubble-burning in his own "Punjab"—that Supreme Court next week would take a call on it.
The measures Kejriwal has announced—schools closed, odd-even cars on road, banning trucks, work-from-home for 50% of government staffers—is probably known to you. What's not is that all construction and demolition activities, ongoing work on roads, flyovers, underpasses, over-bridges, pipes etc would stop too. (The two square meals for migrant workers he is in love with, obviously isn't an issue here.)
Such frenetic measures must tell you that Mr Kejriwal's pant is on fire. He has Gujarat polls in a few days; his health minister Satyendra Jain is in jail for months now, as is his poster boy Amanatullah Khan, not to say the health minister of Punjab, out on bail from prison confines, who nevertheless has made a backdoor entry for Kejriwal's Aam Aadmi Party (AAP). Kejriwal's shadow, Manish Sisodia, isn't out of heat on alleged Delhi's Liquor Scam.
Enters Indian Express for mission "Saving Arvind Kejriwal." It's today's edition is a collector's piece for those who are planning a book or a classic on what Journalism- Should-Never-Be.
Most of Express' front page today is devoted in mitigating the killer Delhi air which claims 18% of all those 20 lakhs killed due to air-pollution in India.
So out comes a little-known IIT professor who asserts that "Stubble-burning factor is for 10-15 days" only; never mind that even a night of firecrackers in Deepawali in the Capital invites six-months of jail, pompously announced by AAP's Delhi government and never questioned by the newspaper.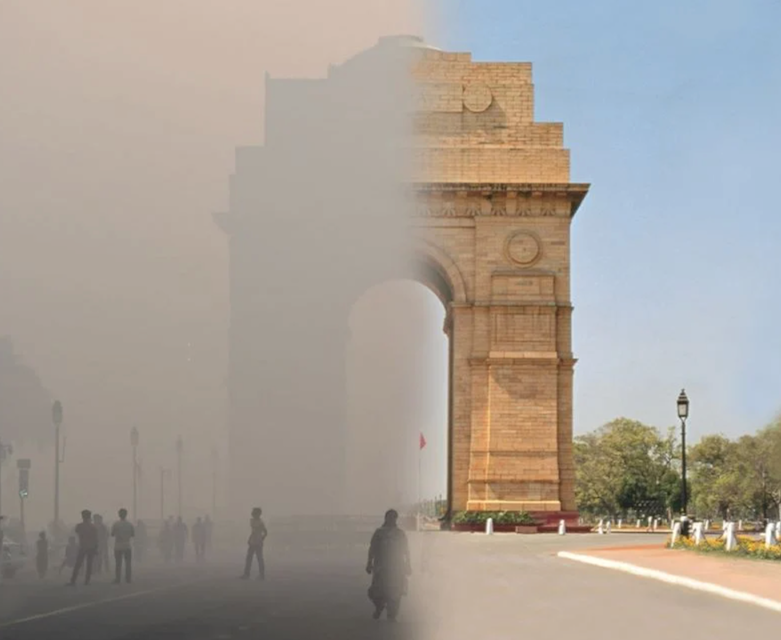 The daily reserves its front page for Kejriwal's view that air pollution is a "North India problem" as he "asks Centre to act.' That the Centre has provided Rs 1,400 crores of Rs 3,138 crores sanctioned to Punjab alone, out of which nearly Rs 500 crore remains unused, is obviously an inconvenient poser undeserving for Mr Kejriwal.
As perhaps dispensable is the fact that the neighbouring Haryana—yes Mr Kejriwal/Indian Express it's North India only—has shown 30% dip in stubble-burning in one year, 55% in last six years for they use "Balers" which Punjab doesn't. (Balers are machines used to compress crop residue into compact bales.)
Indian Express has obviously been at work on whitewashing this air-horror for days. So it pompously tells us at the number of villages and farmers it has visited lately to get the real picture: And that there are enough machines in the state of Punjab which sow new seeds and bury the stubble within the soil but it's a "mindset problem" of the farmers who torch the stubble than transport it to biofuel plants where it could be converted into energy.
The trouble is this "mindset" has enough basis for what it does. It costs upwards of Rs 60,000 to transport the stubble in today's rising diesel prices whereas a match-stick putting them on fire costs nothing.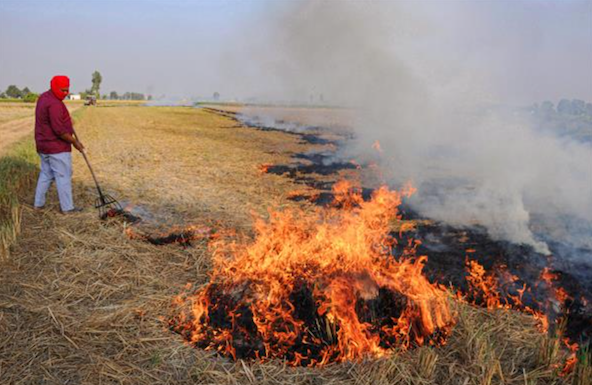 Indian Express throatily cheers more than once in front page stories today that the contribution of stubble-burning in Delhi's air-pollution had educed to 30% from 34% on Thursday. What mercy! That Sangrur, the home district of chief minister Bhagwat Mann, is among the worst-offenders on stubble-burning would've otherwise made it into a three-column front-page headline if it was Yogi Adityanath's constituency.
Sprucing up the stubble-burning issue isn't the only thing Indian Express does for Mr Kejriwal today. So we have a double-column story on front page of AAP's CM-face for Gujarat, Isudan Gadhvi and that politics is a "compulsion for him, not a hobby." That alongside this mushy-mushy story, is the hard knock of a senior AAP leader in Gujarat quitting the party is hidden from the readers. As is the news spiked that judiciary has now ruled there is "enough ground to proceed against Amanatullah" in alleged Waqf scam.
This is how Indian Express, and others in Lutyens Media, cheat the readers of the money they spend in buying the dailies. Media are hard-wired into believing that we the readers are stupid enough not to notice. For next morning doesn't get them brickbats but only bouquets on the phone from those who misuse citizens' trust to come to power.
There is surely enough incentive for such media to be the bagpipers of crooks. What's in it for readers is for us to reflect and despair. Media has a licence to kill in this country and if it's so, there is no reason for citizens to celebrate its democracy where bounded laws and rules are only for the weak and helpless. The best we could do—and we must do—is stop shelling money to buy such rags.
Meanwhile, I leave the readers with a video of Mr Kejriwal and how he freely advices to control stubble-burning in Punjab (this of course when he hadn't won the Punjab polls). This is trending on social media for the last 48 hours but obviously Indian Express hasn't had a look at it.