Someday you should revisit the MonkeyGate of India's tour to Australia, 2007-2008. It happened in Sydney, it happened on a tour like few since the first was played in 1877. Here you had Australia, in its pomp which was second only to West Indians of 70s and 80s in cricket history; and an Indian team which was recovering from coach Greg Chappell's bitter tenure but still had in its fold two men he had pitted them against each other: Sourav Ganguly and Rahul Dravid.
We were in Sydney for the second Test, having been picked apart in Melbourne, when MonkeyGate happened. It put to shade India's reply of 500 to Australia's 400; reduced to a footnote that India lost last three wickets in the final two overs of the game. For the two teams were virtually in a Galwanesque hand-combat for five long days. In that post-match press conference, when captain Anil Kumble said only one team at the ground had played cricket, he had only echoed what we the journalists–of both sides–had felt throughout. Rival captain Ricky Ponting termed it the lowest moment in his captaincy. 
Only, it was going to get worse.
xxx
As the shadows were lengthening at the SCG, the groundsmen were putting sprinklers on a pitch which had decayed like a corpse after pounding of five days, I had rushed to Harbhajan Singh who had wandered on to the ground as most players do after a match. I called out Bhajji and had a particularly bad message for him: Australians were planning to accuse him of racial abuse.
He was stunned, he didn't know what was it all about, I didn't know either for I had snooped only that much. But I guessed it bought Kumble and his men some time to prepare their defence in front of match referee Mike Procter.
And that was MonkeyGate. Ricky Ponting and his men had accused Harbhajan Singh of calling Andrew Symonds a monkey while the Sikh was plundering a half-century on the third day. Testimonies and defence flew from both sides yet Procter deemed Harbhajan guilty and worthy of a three-match ban. Even the word of non-striker Sachin Tendulkar, a gold-standard in honour whose testimony is like an oath in cricketing world, was thrown out of the window.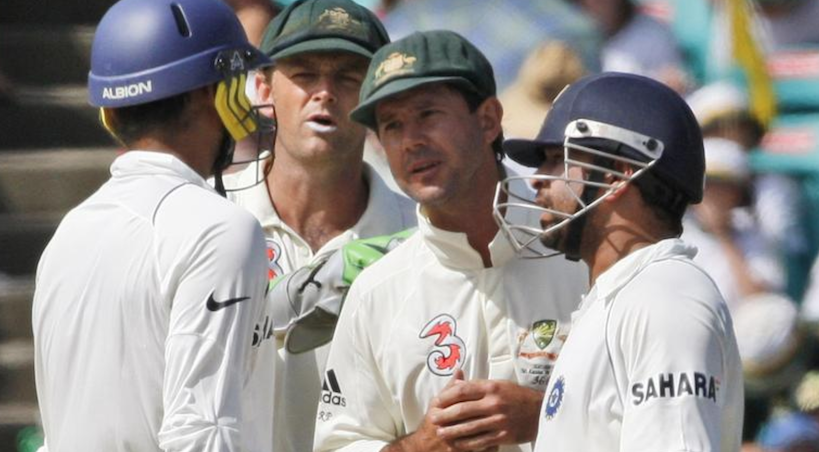 No more tour, Indians made it known to its Board who in turn informed their counterparts in Australia: Or you restore Bhajji to the Indian team. The International Cricket Council (ICC) sent its arbitrator from New Zealand; we the journalists used to stand below Australia's Federal Court in Adelaide during multiple hearings, and finally justice happened. Bhajji was acquitted of the charge.
The tour went on and India roared back with a victory in the next Test at Perth, which ironically didn't have Harbhajan! But he couldn't have played either for there was place for just one spinner on a pitch like fire at WACA and Anil Kumble, as captain, was the first name in the team sheet.
xxx
There was one another moment when Harbhajan had fallen foul of officialdom; once again I, somehow, found myself thick in action; but this time India did actually end the tour officially—the last one at Centurion becoming an "Unofficial Test."
It was the second Test against South Africa in Port Elizabeth in 2001—the debut series of Virender Sehwag—and match referee Mike Dennis had banned six of Indian players on various charges. Both Harbhajan and Sachin Tendullkar received a suspended ban of one Test; Bhajji for excessive appealing and Tendulkar, hold your breath, for ball tampering!
I somehow again had primed India as a nation for its course of action. Indian team and BCCI of course were outraged but I leaked the match referee Mike Denness' verdict a day before to the nation which inflamed a billion in anger for it had involved their cricketing divinity Sachin Tendulkar.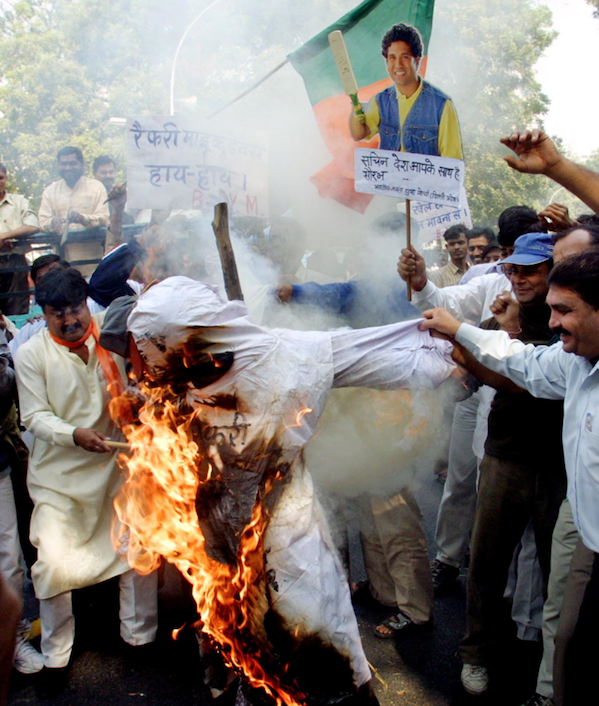 Soon enough Dennis' effigies were being burnt on Indian streets; the matter was raised in Indian Parliament, and it was Denness who was termed racist. The Indian board had its way, the third Test turned into an unofficial "friendly five-day game" and Denness was not only removed as match referee but wasn't even allowed to enter Centurion Park during the unofficial Test!
xxx
It would be grossly unfair if the kids of today were to carry the impression that Harbhajan Singh was but only a brawler at ground like the ones we meet in pubs. He has been a mighty cricketer, still the fourth best in India's long history despite the passage of time and Ashwin having just inched ahead of him. You don't bowl nearly 30,000 balls, play 103 Tests often involving over 50 overs at bowling crease, and still be good enough with bat to score two Test hundreds and over 2,000 runs. He played as much at home as abroad and often as first choice spinner over Anil Kumble which should sober up anyone who is not in his corner. 
Harbhajan, all of whirring arms, was flamboyant, feisty but conservative like hell in his bowling philosophy. He trusted in the virtue of putting a "tappa" (length) at the same spot, just on or around the off-stump, and bring in his variations from that basic starting block. His action and rip on the ball gave him endless calluses between his index and middle finger, that pivot and rotation a strain on his hip, but it afforded him bounce and turn on the most placid of pitches. And all this when his "doosra" was taken away by the officialdom. He played during a time when India didn't prepare as bad dusty bowls as they do at home these days. And he took out men like Ricky Ponting—he had him in both innings in the MonkeyGate Test—for fun. Ponting in his pomp was a wicket a bowler could take and retire happily thereafter. 
xxx
There are 13 bowlers who have taken more wickets in Test history than Harbhajan Singh. None of them, NONE, was blessed with his histrionics and theatrical passion. I mean what do you remember about Rangana Herath who played less Test and took more wickets than Harbhajan? Glean on this list and you would sense the import of my words.
Harbhajan was a kind of cricketer every captain loved to keep him by their side. It was true of Sourav Ganguly as it was true of Sachin Tendulkar and MS Dhoni both of whom sought him out in the cricketing journeys of Mumbai Indians and Chennai Super Kings in the Indian Premier League (IPL). He bowled with courage—a spinner without a big heart has no future—-and even in T20s, he opening the bowling or sending down the final over was a common sight. 
In the 1990s and 2000s, when Tendulkar-Ganguly-Dravid-Laxman-Sehwag were moulding India's golden age in batting, the nation also had the bowling wealth of Harbhajan Singh, Anil Kumble and Zaheer Khan with nearly 1400 Test wickets between them. 
You look at him, and compare with sportsmen of any generation, not just in cricket; those who matched aggression with numbers in the score charts, they always carried the masses with them. It was true of Mohammad Ali; as it was of Jimmy Connors as it's with men like Kapil Dev, Harbhajan Singh, Virender Sehwag, Yuvraj Singh and now Virat Kohli. It's as if their every roar, those pumping fists, that grimace, frown, smirk, scowl, sneer are all meant only for you in the stands or in your drawing room. That's a personal connect, a primitive bond between a sportsman and a fan. You have the masses' Oscars.
xxx
And it's not just with fans. It's with fellow cricketers also. I mean Tendulkar is most expressive on his affection for Harbhajan and Yuvraj. It's as much for their cricket as its for their aggression which still doesn't hide the vulnerability. These two simple, countryside Punjabi folks who you would find aplenty in dhabas alongside highways than in galleries of palaces. Harbhajan, and Yuvraj straddled both worlds but essentially they remained true sons of the soil till the end.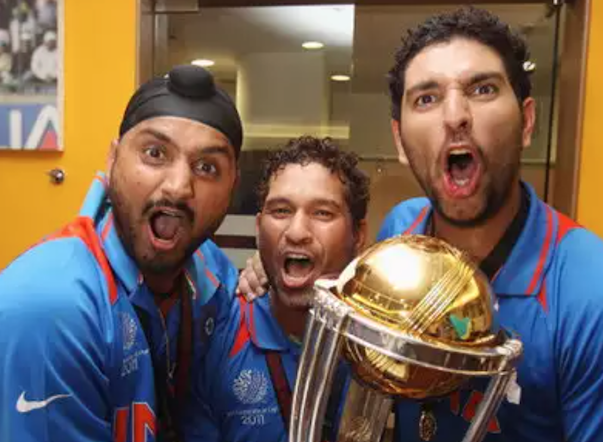 Harbhajan's retiring note tells a lot about the man, as his DP on his WhatsApp. He adores his mother and five sisters, dotes on his wife and two kids, his father is still in his thoughts and he hasn't forgotten his early years of distress and struggle. He was only 20 when his father died, He had played Test cricket by then but his career was floundering; his best was still to come. All of a sudden he was his family's head with the task of marrying and settling his sisters–and picking up his cricket. He did so and delayed his marriage with Geeta Basra till 2015 even though she had been his girlfriend for long. 
xxx
I somehow was there at most important turns in his cricketing life. (including creating his first email ID on internet when the 20th century was closing out.)
When he was just 17-18, his action was in the spanner of ICC, Sachin Tendulkar asked me if I could do a favourable piece on this exceptionally talented young man who could go to pieces so early in his life under the glare of the system. Tendulkar had asked Bhajji to give me a call; I duly asked him over to the Press Trust of India (PTI) office and here was this thin teenager, with a hint of moustache and a profile you often find in the dusty towns of Punjab. 
His "doosra" was again in ICC's crosshair in 2005 and I remember to have broken him the news while on flight after the Kolkata Test against Pakistan which India had won by 195 runs.
I remember that Test distinctly because it again had umpire Steve Bucknor, who again had given a horrible decision against Sachin Tendulkar; the same West Indian umpire who was to rule Andrew Symonds not out on a thick edge in that Sydney game three years later which is now remembered as MonkeyGate Test. 
In a strange way, Harbhajan earned the affection of those who were deemed to have been at the receiving end of his passion; Andrew Symonds when he turned up alongside Harbhajan for Mumbai Indians and Sreesanth, slap and all, who has been so profuse in his praise for Bhajji after his retirement now. Call it Stockholm syndrome or whatever, it was impossible not to connect with Bhajji in a primitive way.
Now both him and I are out of cricket. I suspect he has his own political views which do not quite echo mine. But there is unbounded warmth on either side. Only recently I lost my cool with him and his response was like one of hermit which should tell a thing or two about the man who is perceived as a firebrand, quick to take offence. I am not quite privy to what are his new plans, but I wish I am for it seems almost divinely ordained that I forewarn him of dangers that lie ahead in his journey.
Hopefully, it's all roses and scent in his life after cricket. And he smiles more often than he scowls.