Why is the #prepaid #petrolmedia up in arms, in a rare show of unity, against the micro-mobility and mass app-cab aggregator, ostensibly on behalf of the consumer, when the consumer has been the last person in their food-chain now for decades?
I refer to these two exchanges on twitter which appear to have started a free-for-all, where facts took the back seat, and everyone wanted to be in the driver's seat over a new entry in the all important Indian automobile space.
The 4-wheeler shown below is an artist's rendition of the electric car proposed by Bhavish Aggarwal of Ola.Still some way in the future, but in the world of automobiles, a few blinks away. More importantly, enough to make people looking to buy a new car, postpone their decisions by a couple of years.
Given the uncertainty behind fossil fuel prices at the filling station and the sheer cost of buying a new car or two-wheeler with a petrol or diesel engine inside the bonnet – whilst not knowing if it will become illegal in 10 or 15 years or even less – people who are much more than rich consumers looking for luxury cars and motorcycles are obviously going to start giving electric vehicles a second look.
And as they are showing recently – will be willing to wait for one. Especially if the said electric vehicle is delivered direct-to-home in a Business-to-Consumer transaction. Which anyone can see is a clean saving of around 16% to 20% by way of no more dealer and marketing costs loaded on to the cost of the end product.
The motoring media – of which I have been a part across all forms of media, as well as from the perception management PR field – has over the last 2 decades become something of creature that has begun to over-estimate its importance to the extent that instead of providing reportage on actuals and maybe representing consumer aka reader interests – it has started getting delusions of grandeur.
A leading motoring media personality, for example – and this was documented – was unaware that diesel engines did not have spark plugs when he started his career on the strength of hailing from a particular micro-minority that did control the automobile field in that era. Another one had no illusions about accepting all sorts of blandishments and gifts whilst going on and on about corruption on our roads.
But the real reason to want to be a motoring journalist is simple – no other industry throws or threw such wonderful junkets and parties, where the destination was the attraction and the automobile a part of the background. Expecting objectivity and truth became a casualty many many years ago and the motoring media became nothing but a mouthpiece for the manufacturers and their cohorts.
In the middle of all this landed Ola Electric.
And thus, the fracas, best documented here –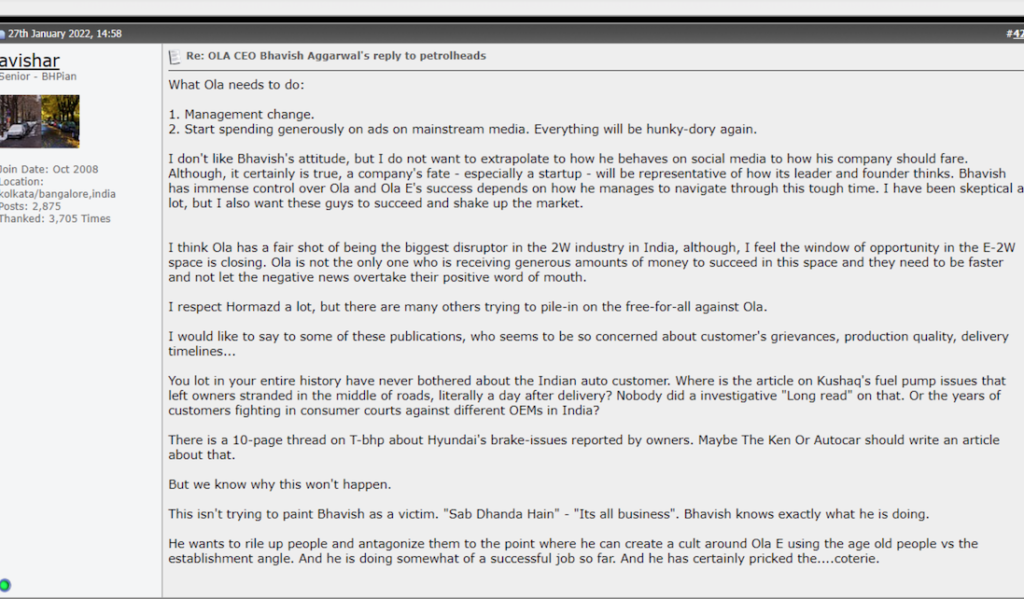 The world of automobiles is rapidly changing in India. High fossil fuel prices whether petrol, diesel or CNG, uncertainty on life of registration, more complicated hybrid engines which appear to be the subject of expensive recalls, and most of all – the changing need from automobiles made for long hauls to solutions needed for last point micro-mobility.
All that adds up to – fewer junkets.
And therein lies the root of the anxiety sweeping the motoring media.
(Veeresh Malik was a seafarer. And a lot more besides. A decade in facial biometrics, which took him into the world of finance, gaming, preventive defence and money laundering before the subliminal mind management technology blew his brains out. His romance with the media endures since 1994, duly responded by Outlook, among others.)