By Shantanu Guha Ray
So, Partha Chatterjee is now history, relieved of his duties by the Trinamool government.
He is in an ED lockup, sorry custody, lying like a prostrate, disemboweled Gulliver. Bengal CM Mamata Banerjee sincerely hopes bad talk about her government would take a back seat now.
Banerjee, headed to the Indian Capital next month for a crucial meeting with PM Narendra Modi, needs to fill her bag with as many as brownie points about her government, and the ministers, as she could.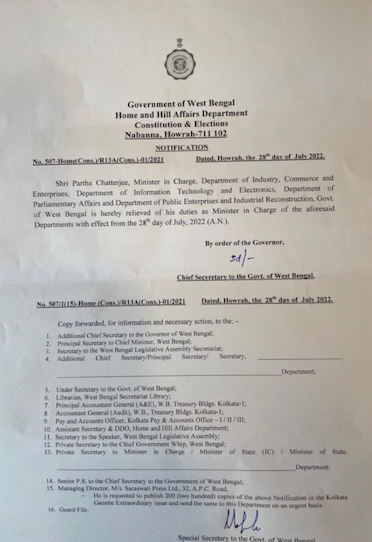 For many generations, Bengal – an intellectual state of artistic temperament – took pride in the fact that it produced many Nobel laureates. And it did not matter for the state that it never produced a Prime Minister. A top editor in the city once told the now-defunct Far Eastern Economic Review that he considered Calcutta (not Kolkata then) as Paris. Lucre was bad for Bengalis, education on a high platter.
Now, conservative Bengalis are rattled with images after images of mountains of cash recovered from homes of friends of the rulers of the state. In private conversations they are telling each other how worse it would get. They are reminding themselves that a state that has always claimed – in official conversations – it is cash-starved can have as many as seven Ponzi scams, illegitimate cash collected from the market hovering around a whopping Rs 100,000 crore.
What can Rs 100,000 crore get a state? Or a nation? Bengal could have built an entirely new six-lane expressway connecting Diamond Harbour to Siliguri. Didn't it cost the Yogi government Rs 25,000 crore to connect Lucknow to Ghazipur on the outskirts of the Indian Capital? The state government, with all the Ponzi cash, could have got rid of 20 percent of its accumulated debt of Rs 5,00,000 crore.
That is the power of the cash gained, and that is the miss of the cash lost.
In Kolkata, two raids at the home of small-time actress Arpita Mukherjee, have yielded a little over Rs 42 crore in cash, and then there is gold jewelry and foreign exchange (read US dollars, GBP Sterling, Euros and some Bangladeshi Taka).
Neighbours of Mukherjee told pesky reporters who flooded Belgharia with their whirring television cameras that they have never seen cash being carried in a truck. As many as 50 trunks were requisitioned by officers of the ED.
Mukherjee, who regularly posted on the social media photographs of her cooking porridge (read khichuri) for industry minister Partha Chatterjee – now disgraced and in ED custody – has told the ED officers she allowed her home to store cash.
Mukherjee has said she was genuinely not aware why the minister's men stored cash at her home. She told the ED officers that she had some empty rooms, so like a true friend she offered help. Those in the know and following the Staff Selection Commission (SSC) scam say Mukherjee is equally complicit in the crime.
Seasoned lawyer Arunava Ghosh told this reporter that the Chatterjee-Mukherjee case is just the tip of the iceberg. "I know many in the government who have more than Rs 100 crores at their home. I will speak to the ED officers soon." Ghosh said what he was saying – he has been saying it time and again on his YouTube blog and in interviews with Kolkata-based television channels – is absolute truth.
"There are loads of cash in this state, loads of cash that comes from all sources. This is blood money which the ED is collecting because people have sold their land, cattle, homes, jewelry to get these jobs. This is just unpardonable," said Ghosh.
Bengal's largest circulated daily Ananda Bazar Patrika said in a scathing report the amount of cash collected by politicians was just over the top. Consider this one, as per the list produced by ABP:
Group C job: Rs 10,00,000
Group D job: Rs 10,00,000
Primary level teacher: Rs 10-12,00,000
Teachers for Class IX-X: Rs 15-18,00,000
Teachers for Class XI-XII: Rs 18-20,00,000
And nearly 75 percent of the cash needs to be paid in advance, there are special rates for those who want jobs in schools close to their homes. Imagine the luxury.
This is Bengal 2022 for you, and me.
This is the cash offered by gullible people who wanted their sons and daughters to be employed as teachers and clerks in state-government run schools. The education sector is the biggest zone for government-level employment in Bengal.
Now, let's not forget that Chatterjee was the state education minister from 2014 to 2021 and had a free run with these very admissions. The ED suspects that Chatterjee's men and women kept on seeking cash from gullible aspirants, and many incompetent aspirants. Chatterjee, who even pushed illiterate relatives of his bodyguards into these school jobs.
When arrested, Chatterjee, a very influential member of Bengal's ruling Trinamool Congress (TMC), tried thrice to call CM Mamata Banerjee but failed, eventually writing in the ED arrest note that "I tried calling my relative Mamata Banerjee but she did not take my calls". This reporter has seen a copy of the ED arrest note.
Chatterjee was grilled by the Central Bureau of Investigation (CBI) in April and May this year in connection with the scam.
While the ED officers continued their raids, teachers who got jobs in state government schools, allegedly by paying bribes, took to the streets after their services were terminated by an order of the Calcutta High Court. The sacking happened because of alleged irregularities and corruption in the recruitment process. Most of these teachers are from schools in semi-urban or rural areas.
Those protesting included the son of a TMC leader, the wife of a CPM leader, a TMC youth leader, two brothers, and the wife and two close relatives of a secretary at a private teachers' training institute. There are an estimated 273 primary teachers in state-run schools who got the sack and took to the streets to stage a protest.
This was not all, there were those who were educated, competent and yet, not getting jobs because they did not pay the bribes. They also took to the streets. "Isn't it sad that we are seeing these sarcastic images of cash, are we thinking about those on the streets. They have been protesting for over 500 days," remarked Riddhi Sen, an award-winning actor in Bengal.
This is one side of the coin. What is the other one? Syndicate business – the ubiquitous Hafta that was once the norm in Mumbai in the 70s and 80s – is norm in Kolkata. It was started by the Left Front when it swept into power in 1977, and the trend continued for three long decades. Sons and daughters of ministers continued their loot, the red brigade, now hyperventilating against the TMC syndicate business, turned their faces away when the common people complained.
Once Kolkata had some dons, now it has dubious politicians doing the same jobs.
And now, syndication has become a norm. There is a hidden rule in the state where those collecting cash were told to give the big chunk to the party coffers and keep the rest with them. Over the years, the percentage of shares kept on fluctuating, causing tensions within the rank and file of the ruling dispensation.
In one such case last year, a young entrepreneur was rattled when he was told his offer of Rs 3 lakh bribe to open a Chinese restaurant will not work in the Salt Lake neighbourhood of Kolkata. He asked: "So how much then?" He was told: "Rs 10 lakhs."
Hopefully, rates will now drop. In Salt Lake and also in Garia-Naktala in Kolkata's southern fringes, where Chatterjee and his very powerful promoter lobby operated with their vice-like grip.
That will be a great relief. 
(Shantanu Guha Ray, a Wharton-trained journalist, is the Asia Editor of Central European News & Zenger News and an award-winning author. He won the 2018 Crossword award for his book, Target, which probed the NSEL payment crisis.)