It's said angels don't tire. For they don't scrimp on their vigour. Thus there is no finiteness on strength. There is no fear of drowning. You could walk on water. As Kohli's men did at Lord's. Thrown in the lake, bound and chained, and yet here they are swimmingly cheerful, wetting a billion people in gratitude.
We don't know how many were inspired by '71, '76, '87 and if I am not naming Sunil Gavaskar, I presume most of us were. '83 tells us of cricket finding its Tendulkar. But 2018-2021 is of Jo'burg, Melbourne, Sydney, Gabba and now Lord's. And you just can't name one individual. It's a crop and no longer seasonal.
Something impossible is unfolding. We thought riches corrupt a soul. We believed a spirit bred in foreign air—Greg Chappell, Duncan Fletcher or Gary Kirsten—knows more than our own. That we slink in frame and strength in the stable of Vikings. That Indians can't join their heads and hearts on a common goal. That Indians this, Indians that.
But look at this beehive, a colony of mollusks. They come from all corners; it could live in air, land or water. They are asking our once colonial masters if they have the similar skill, strength and spirit. Or that they still believe in the legends of their forefathers that those on Indian lands have three rows of teeth, ears so large it covers their entire bodies and feet which actually are fins.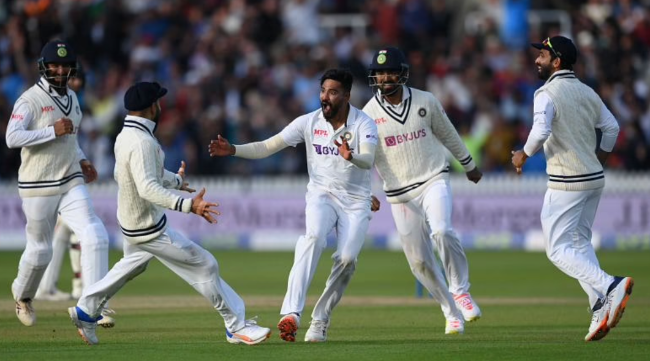 I looked at Joe Root at the presentation ceremony. There is one thing about light-haired people: they blush easily. The heroic England captain had eyes which have seen death. An eye which is afraid of an unkind glance from their own. His day had begun covered in the glory of snow in a forest. But it had thawed under the Indian sun and grime had emerged from under the snow: the hidden foliage, pieces of rags that had lost their colour and oh yes, yellowed plastic bottles.
He had made the mistake of standing with the scornfuls, perhaps orchestrating them himself, as they began hounding the rabits they saw in Shami and Bumrah. It was also an obligation to James Anderson from previous night. A mate kind of a thing. Unfortunately, the men they chose were angels of infinite strength who could walk on water. When I saw Root on telly, I could spot beads of sweat, size of pea. The sky was colourless for it had given all its hues to an Indian summer.
Root is an exceptional man and he would realize he is battling Centaurs of our times, two persons in one. It should inspire him and his team, in the best spirit of best men, and there is no point carrying a turquoise in person in the belief it would ward off the evil. No need for lowing but just searching if they have these angels in their own selves. Gods are known to take a wounded man's sores and scatter it into the thin air.
This Indian team would now inspire fear in faraway lands. Their renown would spread, independent of own will, through hamlets and towns, cities and metropolises. They are coming, they are coming, would say the sideways glance. They are no longer minstrels but gladiators. The moon has burst through the torn edges of the clouds.
It's said Alexander the Great, on seeing a horrifying man with his own name, would say: Yonge man, change either thy name or thy morals. I wish the same for every Indian who is thinking of converting his name. If you see see a hero in each one of these on national duty in whites today, then know your own infinite strength, without the division of caste or creed which a few unscrupulous prescribe for us, and before long you would have India walking on water. Be the ribs which protect your heart, called India.