It is easy to understand both India and Russia won't like to be too dependent on either the United States or China who battle for supremacy in the world. 
India has dared West with unflinching support to Russia in Ukraine Crisis while being an enthusiastic QUAD member; and Russia has been an Indian friend for all seasons, never mind its "no-limits friendship" with China. 
Both of them have stood up to the world's superpower; one by being unswayed by a series of sanctions and the other by resisting the pressure of entire West and not just the United States.
And now has surfaced the third complimentary angle to the Indo-Russia symmetry: Iran who happens to be equally close to both China and Russia but is willing to restore its civilizational ties with India which suffered under the US pressure. 
The jumble in this part of the world we call Eurasia defy neat boxes our minds prefer. Traditional rivals Iran and Saudi Arabia are holding parleys; Israel is being embraced by the Gulf nations while India is warming up to the Talibans. 
And United States? Well the Petro-nations aren't helping the bully in the backyard who wants a glut of oil in the market so Russia can't dictate a premium on its own energy due to oversupply.
Each one is putting its own interest first and the bitterness of the past is on the back-burner.
Why, Iran was hugely upset when India forwent the 10% of its energy needs that Tehran supplied due to the US pressure; and India was chastened when Iran lashed out at the abrogation of Article 370 in Kashmir.
Now both are on the mend and the visiting Iranian foreign minister Dr. Hossein Amir-Abdollahian was given audience by Prime Minister Narendra Modi, no less, in Delhi recently. All India needs is to shrug off the US pressure on Iran as it did in the case of Russia-in-Ukraine.  
Thus the New Cold War isn't a matter between two camps only: It now constitutes multiple actors who are creating the third angle in this symmetry in which three civilizational States of India, Iran and Russia happen to be common factors.
International North South Transport Corridor
If you don't happen to know of International North South Transport Corridor (INSTC), I suggest you do now.
It's a 7,200 mile long Corridor which connects Russia and India through Iran alongside Caucasus and Central Asia, a sweep of 13 countries which would transform Euro-Asian freight dynamics.
It takes little intelligence to underline its liberating influence on two Sanctions-hit nations, Russia and Iran, or for that matter India which could sell its goods much cheaper through a shorter route than the ones it mostly uses through Suez Canal to reach Europe (see image below). Not to say of a completely new market in Central Asia et al where New Delhi is presently hamstrung by non-access through Pakistan.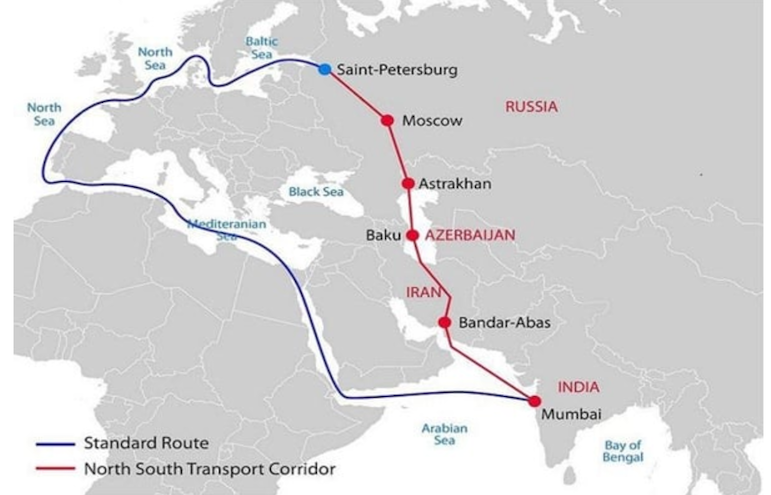 The Corridor holds potential to spiral the $11 billion trade between India and Russia manifolds, largely made up of arms deal presently, when the potential for supplies of precious stones/metals, power equipment, steel, pharmaceutical, agricultural products, machineries, advance technology—you name it—between the two holds no limit.
Picture it with the proposed Chennai-Vladivostok Maritime Corridor between India's eastern seaboard and the Russian Far East and the bullish projection of bilateral trade hitting $30 billion by 2025 doesn't look outlandish.
Now cast your eyes around and there are a number of such synergies which are bubbling up in Eurasia. The Eurasian Economic Union (EAEU), driven by Russia, has a combined population of 167 million and a GDP of US$5 trillion. Most of them share a Free Trade Agreement (FTA) between them; as does India with quite a few EAEU nations. It could seamlessly integrate with the INSTC.
The EAEU also enjoys FTA with Iran, Serbia, Singapore and Vietnam; China too is in the works as are most ASEAN nations, Turkey, Israel, Egypt etc. No wonder India with its Act East Policy is turbo-charged in working out an FTA with EAEU itself. 
Enters Iran again in the picture. It has signed a deal with Oman to develop two gas pipelines and an oil field along their maritime borders which is a shot in arm for the Iran-Oman-India gas pipeline future. It should sooth the hurt of New Delhi on Iran-Pakistan-India pipeline which never came about. 
And then there is China
Most see India's recent transport/freight initiatives in Eurasia falling in crosshair with China's Belt and Road Initiative (BRI) where the two overlap each other but that's a too simplistic view. Sure, India has concern with BRI traversing through Pakistan Occupied Kashmir (PoK) on which New Delhi lays its claims; as well as its sea route around Indian Ocean that hems in India; but Beijing too treats QUAD as its existential concern. Yet, China remains India's second most valuable trade partner; never mind the two armies facing each other for nearly two years now in Ladakh. (BRI image below.)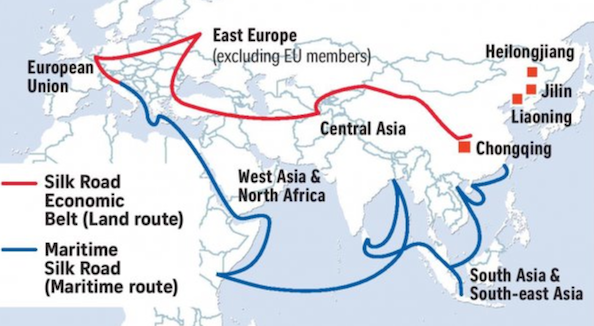 Sure, the ties between the two aren't the sweetest. China has geopolitical imperative that India doesn't rise too quickly. History shows it's in a bigger power's interest that it's neighbourhood is generally benign. India, on its part, is justly ambitious given its sizeable economy and potential of its people. But this jockeying is best left for future as the present is too important to let go un-seized. Humanity is on a cusp to be freed from the West's domination and it isn't possible without Eurasia's integration in which China and India are two important cogs in the wheel.
Beijing and New Delhi could keep sparring as long as the bigger goal of freeing humanity from the globalists is not thrown under the bus.